I've not posted for a few days because I've been working on this fairly complex panel system. You've seen the preliminary designs in the House for Khayelitsha and the Simple Panelized Shelter but I'm just about done figuring out all the details for a simple panel system that could be used for both homes, as well as many other designs.
Below are a couple of examples of how this panel system would work and if you continue reading you can see how the House for Khayelitsha would be assembled. I'll be working steadily on this until I have all the details worked out.  In the mean time enjoy the preview images.
Each panel is color coded to show which panels are the same. There are only a few different types of panels and the differences between them is actually very slight. I've designed two different roof systems and will add a third before I'm done. Below are the assembly steps for the House for Khayelitsha.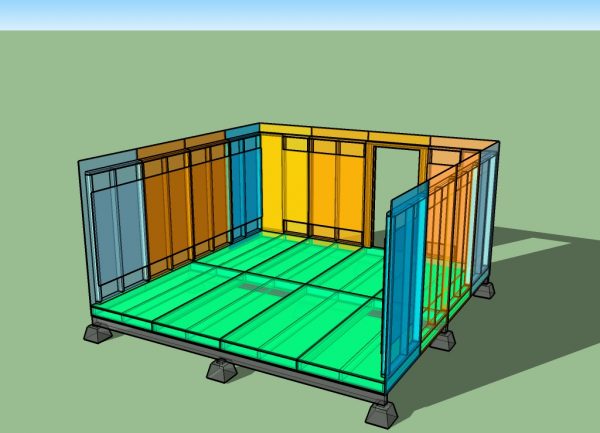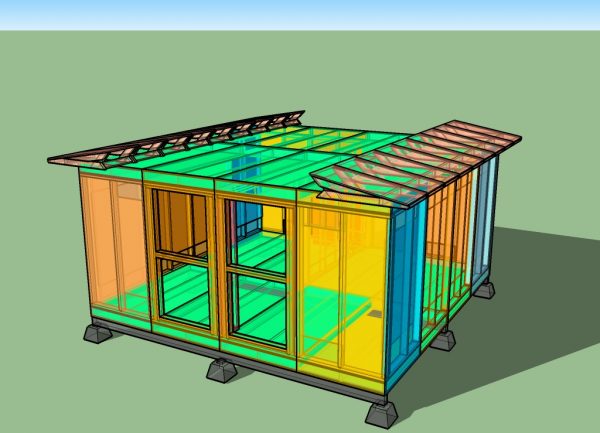 I've gotten a lot of great feedback from readers on the preliminary designs, especially a fellow named Malcolm. In fact there are still a few details I need to add into the design based on his input, like rotating the foundation so that the 4x6s are under the side walls.
Thanks again for all your help and input Malcolm!