Do You Really Need a Generator for your RV?
Electrical power is essential to get the most use out of modern RVs. Let's face it, when we take our RV on a camping trip, we expect to use the conveniences it provides, and most of those conveniences require electrical power. While most commercial campgrounds provide electrical connections, there are thousands of excellent camping spots that do not provide connections, especially in many state and national campgrounds, and on a family member's property.
The two most practical solutions are solar panels and portable generators. What to consider when choosing an RV generator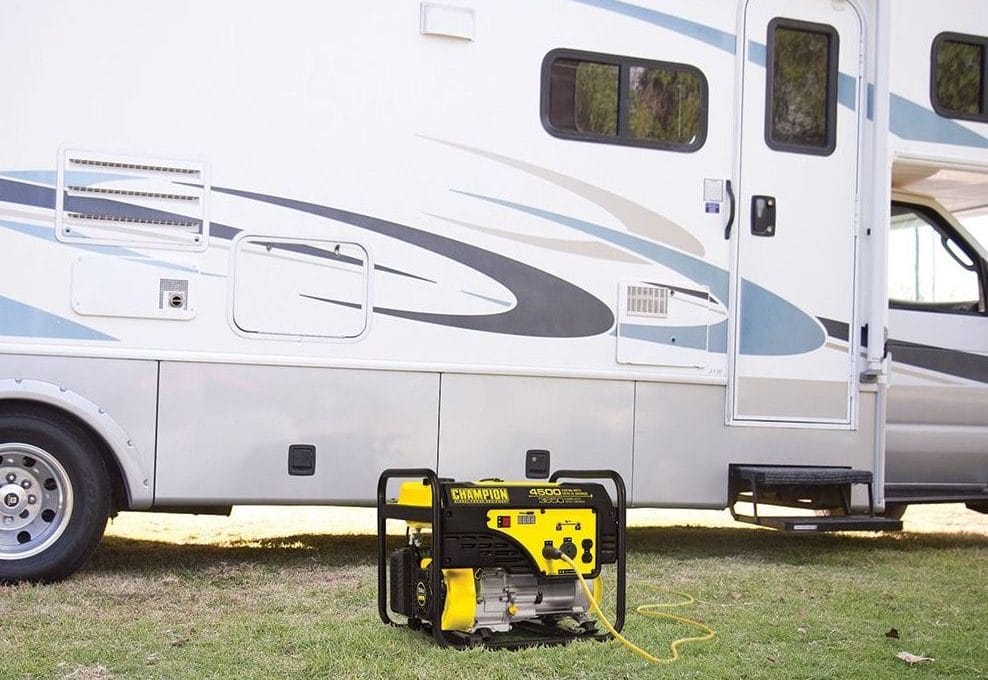 Basic Generator Knowledge
There are several specific items to look for when choosing the right generator for your camper, including:
a. Power Demand and Generator Output
Electrical Device
Watts Required
Air Conditioner, 10,000 BTU
750 W /2,000 W
Coffee Pot
1,000 – 1,500W
Electric Heater
1,000 – 2,000W
Electric Stove (one element)
750 – 1,800W
Gas Furnace
300 – 1,500W
Hair Dryer
800 – 1,500W
Iron
1,000 – 1,500W
Microwave
500 – 1,500W
Radio
30 – 100W
Refrigerator / Freezer
600 – 2,500W
Sump Pump
800 – 3,000W
Television
100 – 350W
Toaster
1,100 – 1,700W
Water Pump
1,000 – 3,000W
60-Watt Light Bulb
60 Watts
Table 1. Power Requirements for Typical Items
The power output of a generator is rated in Watts; therefore, you need to know the maximum Wattage that will be required at any one time while you are camping. To do this you must know the Watts required to power each device. Table 1 shows the power requirements for typical electrical items found in a camper.
To determine the Wattage required for your generator, consult the camper or appliance manufacturer' data for the required Watts (W) for each device.
Note, some devices may require higher power levels when starting up, and much less during operation.
What happens when the required total wattage is greater than the rated power of the generator: usually a circuit breaker opens and shuts off all power. This prevents electrical damage to both appliances and the generator, and most importantly, prevents potential fire hazards. An overload is most likely to happen when a device such as an air conditioner is first turned on because that is when there is the greatest demand for power. Once running, the power demand goes down.
Note: anything that uses an electrical motor will have a much higher power demand during start-up, and less power when running.
Using the table and/or each product's user manual or other document, you can determine the total power (in Watts) required at anyone one time when these devices are "on." This will help you select the right size (power rating) for your generator.
b. Ease of Use and Handling
The components of a portable generator tend to be heavy. Both a typical gas engine and the generator are dense, heavy assemblies, and all of this is mounted on a metal frame with the necessary controls and a fuel tank. Generally speaking, the greater the power required, the larger and heavier the generator. Fortunately, these generators are usually mounted on wheels and provide a handle for easy maneuvering.
Look at the arrangement of the controls needed to start and operate the generator. Fuel valves and power adjustments on some generators are more difficult to reach and adjust than on others.
The total power required will determine the size of the generator. The smaller generators are ideal for small vintage campers and tent camping.
c. Weight
As suggested above, generators tend to be heavy. Even with a good set of wheels, the generator may be difficult to move if the handle is not in the proper place. We suggest you look over the generator before taking it home. Get it out of the box or try maneuvering a demonstration model before making your final decision. Larger, wider wheels will also make it easier to maneuver, especially on grass or dirt.
d. Fuel
Fuel choice is another consideration. Most portable generators use either gasoline or propane. Some are dual fuel engines that can run off of either gasoline or propane. Be sure to follow the manufacturer's instructions for selecting the grade of fuel or when switching between propane and gasoline.
e. Noise Level
Basic portable generators tend to be noisy—about the same as a typical lawn mower. Manufacturers have made improvements, and some are very quiet. Quieter generators tend to be more expensive. Many brands are offering what are described as "quiet" generators, with better mufflers and more sound insulating materials.
f. Run Time
Generators will run for 5 to 15 hours or more on a single tank of fuel. Propane fueled generators can take advantage of larger tanks, which means less refueling.
Selecting the Right Size Generator
Motorhomes often have a built-in generator that draw fuel from the motorhome's gas tank. Properly maintained, these are the most convenient type of generator. Any generator service will usually require an RV service center.
Note, many smaller generators may not have a three-prong outlet. It is okay to use a three-prong-to-two prong adapter to connect to the generator.
The quickest way to determine what size generator your camper has is to look at the camper's electrical plug. If it is a three-prong plug, the camper was designed for a 30-amp connection; a four-prong plug is designed for 50-amp current.
a. What size generator do you need for a 30 Amp RV?
If your camper is equipped for a 30-amp power connector, you can anticpate a power requirement in the range of 3000 to 3600 Watts.
b. What size generator do you need for a 50 Amp RV?
If your camper is equipped with a 50-amp power connector, look for a generator that delivers 5000 Watts or more.
Built-in vs. Portable RV Generators
Built-in generators are sized to meet the power requirements of the RV in which they installed. Most built-in generators may require a qualified service center.
Portable generators are separate devices and will need routine maintenance—oil changes, etc.—to ensure dependable service from season to season.
How long can you run a generator in an RV?
Unless there is some manufacturer restriction or limit on continuous run-time (or the campground prohibits overnight operation), you can run it continuously. To save on fuel, you may want to shut down the generator at night if air-conditioning is not required.
Best RV generators
There are many good brands and models of portable generators in both 30-amp and 50-amp ratings. We have selected several highly recommended generators as examples.
Best 30-amp generators
1. GENMAX 3300-Watt Gasoline Portable Inverter Generator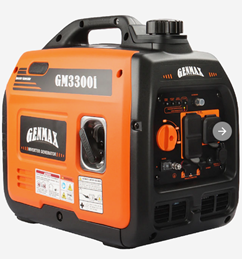 Key Features:
Watts : 3300 Start, 3000 Run
Weight: 47 lb.
Fuel: Gasoline (1 gallon)
Runtime: 4.5 hours
Outlets: Three 20 Amp
USB Outlet: Yes
Quiet 60 dB
We like the quiet GENMAX for its compact size, light weight, and portability, and the fact that it still puts out 3300 Watts of power—enough to run our 28-ft camper with A/C, a refrigerator, and lights, and a TV.
Lowes: $650
2. Champion 3500-Watt Portable Inverter Generator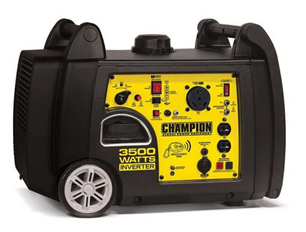 Key Features:
Watts : 3500 Start, 3200 Run
Weight: 110 lb.
Fuel: Gasoline (1 gallon)
Runtime: 7.5 hours
Outlets: One 30 Amp, two 20 Amp
USB Outlet: Yes
Quiet 59 dB
Another "small" unit we like is the Champion 3500-Watt generator. At just over 110 pounds, it is an easy two-person lift from the tow vehicle to the ground, and moving it is easy with the smooth turning rear wheels and the convenient lift/pull handle.
Camping World: $1000
Best 50-amp generators
Fifty-plus Amp generators tend to be larger and heavier. Still, most are equipped with wheels and can be moved around reasonably easy, and they will power your RV power needs.
1. Westinghouse WGen7500DF Dual Fuel Portable Generator
Key Features:
Watts : 9500 Peak, 7500 Run
Weight: 201 lb.
Fuel: Gasoline / Propane
Runtime: 4.5 hours
Outlets: Two 20 Amp, One 30 amp
USB Outlet: Yes
Quiet 90 dB
This generator will power everything you need. The 7500 operating watts will easily power dual air conditioners and everything else, too. It includes a remote start fob and a 12V battery charger.
Amazon: $949
2. PREDATOR 8750W Max
Key Features:
Watts : 8750 Peak, 7000 Run
Weight: 151 lb.
Fuel: Gasoline
Runtime: 15 hours
Outlets: 120 V, 30 Amp
USB Outlet: Yes
Quiet 75 dB
The Predator is a compact generator. Even though it weighs 151 lb., the large wheels make easy work of moving it around. Its 15-hour runtime is among the longest for a portable generator.
Harbor Freight: $1350.00
FAQs
i. Will a 3000-Watt generator run an RV air conditioner?
A 3000-Watt generator should easily power most RV air conditioners.
ii. Can I run an RV AC without a generator?
Air conditioners require more power to run efficiently than an RV battery can deliver. For air conditioning, you need either to be plugged into commercial power at a campground, or a 3500-Watt portable generator that produces sufficient power to run the AC.
iii. Can I run my RV generator all night?
The answer is, "it depends." If you are depending on a portable generator to power the AC, then "how long" depends on how long the generator runs without having to be refueled. There are portable generators that can run 10 to 14 hours.