RV dump stations can be hard to find when you really need to use one. However, you can browse by state or search for a dump station near your current location with a few online tools. You'll also find information about fees, onsite services, directions, and reviews from fellow campers.
This guide unearths where to find RV dump stations near you next time you go camping.
But first..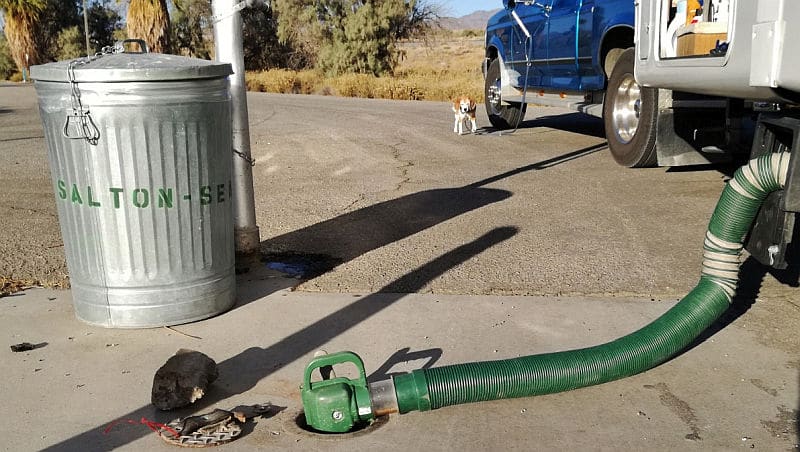 What Is an RV Dump Station?
RV dump stations are the way to dispose of your wastewater in a safe, environmentally friendly manner. You'll find them at campgrounds, rest areas, truck stops, and other places that cater to RVs and campers.
RVs have holding tanks for all the water used in the motorhome or travel trailer. This includes the water from sinks, showers, and toilets.
If your RV's holding tanks are full, you can hook up to a campground's sewer connection.
But if there is no sewer hookup at the campground, or if you're not staying at a campground but want to empty your tanks, then you'll need to find an RV dump station.
How do RV dump stations Work?
Dump stations are designed for both convenience and safety. They give you a place to dispose of your waste without making your campground smell bad. Also, most RV dump stations are available for use 24/7. This is great when you're traveling late at night, and the only option is an RV dump.
RV dump stations usually feature two hoses for dumping: one for black tank waste and one for gray tank waste. Some also have a third hose for freshwater tanks. Most require a small fee to use their facilities while others are free.
RV dumping services can include:
a) Standard Black Tank Rinse
The black tank is responsible for gathering waste from the toilet and flushing it out of the RV. The rinse system is essentially a sprayer that shoots water into the tank and cleans out any residue from the sides of the tank.
b) Potable Water Refill
Some facilities allow you to refill your potable (drinkable) water supply – either with a hose that's hooked up to their system or with a bottle of drinking water that you can buy on site.
c) Sewer Pipe Cleaning
When the dump station is clogged, it becomes very difficult to pump out your sewage. When the pipes are not maintained properly, they become corroded. That's why the Dump station cleans sewer pipes to avoid clogging the sewer system.
d) Gray Water Dumping
The dump station has two openings -one is for the gray water tank and the other is for the black water tank. When dumping gray water, they pull into the gray water side of the station and open your gray water valve. While waiting for all the gray water to empty, they flush out the hose with fresh water from a faucet attached to a hose bibb at the dump station.
e) Soap for Washing Your Hands
Many RV dump stations offer soap and detergent services to their customers. If you spend the whole day camping and doing all sorts of activities, head to a dump station. A liquid soap dispenser is mounted on the wall right beside the water faucet. You simply use this as any other liquid soap dispenser in public restrooms.
f) Amenities, Such as Vacuums and Laundry Facilities
You'll also find vacuum RV dump stations, so you can clean up your tanks and make sure they're spotless when you pull out. A laundry room is also available. This makes it easy to wash clothes after a rough trip, so you don't have to worry about packing too much for a short weekend trip.
Types of RV Dump Stations
There are many ways to dump your RV's black and gray tanks. Here are the most common types of RV dump stations:
a) Public RV Dump Stations
Public RV dumping stations can be located at local campsites, but they are more commonly found at rest areas and rest stops along highways. Many public dump stations have a fee associated with them. Some will have potable water hookups available as well.
b) Private RV Dump Stations
Private RV dumping stations are found at private campgrounds and RV parks. These require a fee to stay overnight or use the facilities, but they often include free access to dumping waste on top of it. You can expect a fee of at least $20 for full-hookup sites that include sewer hookups.
c) Online/app Dump Stations
Online services like Sanidumps will help you find nearby dump stations with their mobile apps or websites. They may also be able to provide you with more information about the cleanliness of each station before you get there in person.
d) Mobile RV Septic Pumping Services
Mobile RV septic services come to your location and pump out your black tank. Your local Yellow Pages or Google search can help you find these services. They may charge more than a typical dump station but can be a convenient option if you want to avoid finding a facility yourself.
Are RV Dump Stations Free?
Typically, you'll find free RV dump stations near campgrounds. The stations are there to make it easy for RVs to quickly dump their holding tanks and leave at the end of the trip.
In addition, most campgrounds have their own private dumping station that is only available to those staying at the campground. It's also worth noting that some campgrounds will charge a fee for dumping your tanks if you aren't a registered guest.
Free RV dump stations are also located at rest stops along major highways and interstates. These facilities are used by both RVs and commercial vehicles. Many cities also have free RV dump stations near their wastewater treatment plants or recycling centers.
While there are many free options for dumping your tanks, there are some places where you'll have to pay for the privilege.
How Much Do RV Dump Stations Cost?
The cost of dumping your tanks at an RV dump station generally falls in the $5 to $20 range.
However, some RV parks and campgrounds with dump stations include the dumping price in the cost of the stay. If you're staying at one of these campsites and need to empty your tanks, be sure to check with the campground beforehand to see whether you'll be charged or not.
You can also find free dump stations in certain areas – national forests and public lands. To find out where these are located, a simple google search should help greatly.
How to Find RV Dump Stations
Many campgrounds and RV parks offer dumping stations. If you're not a member of an RV club, though, it can be hard to find these places.
Here are some options:
Online search: Use your favorite search engine to look for "RV dump stations" or "RV dump sites" with your city name or ZIP code. You should get a list of nearby places that offer dump services and reviews from previous users.
National parks: Many national parks have no hookups for RVs, but some have centralized dumping stations where you can empty your holding tanks. It can be worth paying the entrance fee so that you don't have to go far from your campsite to dump.
RV clubs: If you belong to an RV club such as Good Sam or Escapees, check the website for information about local facilities with dumping stations available for members.
Use your GPS or smartphone mapping App. Your GPS likely has a category for RV dumping locations, so this is another way to find them on your route. You can also use Google Maps or Apple Maps to find RV dump stations near you and read reviews from other users.
RV Dump Station FAQs
Here are some frequently asked questions about RV dump stations:
Can I Dump My Black Tank at Home?
Yes, you can dump your black tank at home. You can simply open the valve on your RV and let it flow into a septic drain field. Be sure to check with your local code enforcement officer to verify that dumping on your own property is legal.
Do Truck Stops Have RV Dump Stations?
Many truck stops have RV dump stations, but there are no guarantees. Truck stops are often part of national chains such as Flying J and Love's, and some do offer RVs waste disposal services. However, they are rarer than other types of dump stations, and you may find them harder to access.
Do Gas Stations Have RV Dump Stations?
Many gas stations offer basic service for RVs, including water fill-up and dumping of holding tanks. It's always best to call ahead before assuming a gas station has an RV dump station on-site.
Do National Parks Have RV Dump Stations??
Yes, they do. The National Parks Service has a few parks with full hookup campsites that feature waste disposal facilities for RV owners. You'll need to check what facilities are available on a park-by-park basis.
Do RV Dump Stations Have Water?
Yes, RV dump stations have water available for rinsing your hoses and sewer connection. Some even offer potable water for filling up your water tank so you can get back on the road without stopping at a gas station.
RV Dump Stations by State
Locations with RV dump stations within the USA are listed below by state. The state names are hyperlinks to their interactive maps showing locations of RV dumps throughout each state.
No
State
Yard
1
RV dump stations Arizona
● Apache Sands Service Center

● Bell Road RV Center

● Merrigans Road-Runner RV

● Pima County Fairgrounds

● Speedway Gas Station

● Coachmen RV Catalina Legacy 263RLS

2
RV dump stations Texas
● Cotulla Camp Resort

● GreenFill Mueschke RV & Boat Storage

● Amistad National Recreation Area

● Dripping Springs Ranch Park and Event Center

● Sea Breeze RV Park

● Back Forty RV Park

3
Free RV dump stations Ohio
● Holman Motors & RV Sales

● Mercer County Fairgrounds

● Gander RV & Outdoors

● Lake Vesuvius Recreation Area, Oak Hill Campground

● Wayne National Forest, Leith Run Recreation Area

● Tiffin Water Pollution Control

4
Free RV dump stations Colorado
● Maverik

● Confluence Park

● Poudre Valley Coop

● Parachute Rafting Center

● Rainbow Grocery, RV and Auto Supplies

● Dove Creek Superette