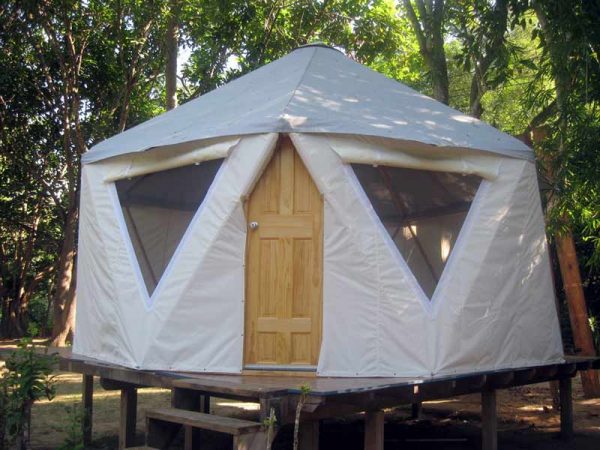 Red Sky Shelters builds an interesting hybrid dome yurt they call the Yome. It uses a geodesic dome style structure for the walls and roof instead of the fence-like lattice work you'll find in some yurts. The walls are then wrapped in a fire resistant breathable fabric. The roof uses a more tightly sealed water repellant material. The whole thing is lightweight and can be put together by a few people in a few hours.
Three sizes are available: the 150 square foot HexaYome, the 200 square foot SeptaYome, and the spacious OctaYome with 256 square feet. They even sell stove and insulation packages for those looking to use a tiny house like this in colder weather.
The photos on the Red Sky Shelters website are a bit small, but I did find a good photo of a Yome at the website of a resort in Mexico called Yelapa Oasis.
Photo credit to Yelapa Oasis.