Do you need RV solar panels?
Do you ever wish you could escape the noise and hustle-and-bustle of staying in a traditional campground, tethered to the utilities at your camping spot, stuck between the campers on either side of you? The fact is, there are many more campsites in national, state, and local parks and campgrounds that do not provide electricity are RV-accessible.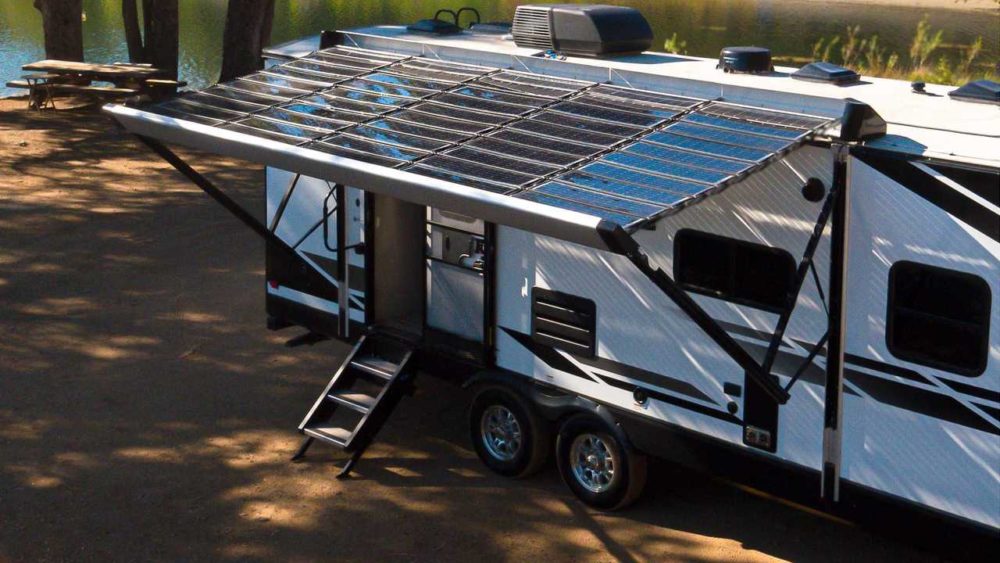 Think about it. Your RV is a fully independent home on wheels that has a freshwater holding tank, a gas stove, and a refrigerator. The RV battery will keep things working—at least for a while! But what if you want to stay several days, or even a week or more—what then.
Solution: Capture the energy of the sun with solar panels that will keep your battery charged and power available for anything you need.
A set of solar panels, neatly folded in a storage pouch, can be quickly set up so you have access to solar power, or they can be permanently mounted on your RV.
The panels can also convert your camper into an emergency shelter if power goes off for an extended period in your home.
RV Solar Panel Uses
A properly sized solar power system will provide you with the same capabilities as plugging into an outlet in a campground. It will keep your battery (or batteries) charged and:
Keep the lights on at night.
Power your television, radio, video games, etc.
Keep phones, flashlights, radios, and telephones charged.
Provide hot water under pressure.
You will be able to "rough it" comfortably anywhere.
Types of Solar Panels and Conversion Efficiency
The efficiency of a photovoltaic device is the percentage of the solar energy that is converted into usable electricity. There are three types of solar panels for RVs:
Monocrystalline solar panels: convert more than 20% of solar energy to electricity.
Polycrystalline panels: convert 17% to 15% of solar energy to electricity.
Thin-film portable systems with and efficiency of 11% -13%.
What Size Solar Panel Do You Need for Your RV?
This will depend on the types and number of electrical devices in your camper and is easy to determine.
First identify the various electrical items in your camper. Typically, these will include:
Lighting
Heating
Water Pressure (pumping water from the camper's storage tank)
Refrigeration
Radio, television, entertainment system
Any other items you might plug in
Obviously, the larger the RV (with more devises to run) will require more solar panels.
The unit for electrical power is the Watt—the more power needed, the more Watts that are required. The basic formula to determine Watts is:
Watts = Volts x Amps
You can use this formula to determine the Watts of energy required for any electrical device. Refer to the owner's manual or technical data for each electrical device you expect to use in your camper to determine the wattage required.
For example. A 60-Watt bulb requires 60 amps per hour ("amp-hours"). If that light is on six hours a day, then it will consume 360 Watts of power.
By referring to the owner's manual or technical data for each electrical device you expect to use in your camper, you can determine the approximate amperage required.
For example, the refrigerator may require 4.5 Amps (per hour), but it is operating only 30% of the time over 24 hours. The formula for this refrigerator is: 4.5 Amps x 24 hours x .3 = 32.4 amps. During a typical day, the refrigerator will require 32.4 amps of electricity.
Do this calculation for every electrical device and find the total amps of energy typically required per day. You can use this value to determine the size or number of solar panels you will need.
Keep in mind that solar panels are only fully effective for about six hours a day, so they must collect enough energy in six hours to keep the battery charged for 24 hours. Most properly sized solar systems will provide two to three times the minimum electrical energy required.
The average solar panel produces approximate 18 Watts of power per hour. Over 6 hours of solar charging, the solar panel will have delivered 128 amp-hours of power to the battery. Three monocrystalline panels would deliver 384 amps of electricity to your battery in a six-hour period.
These are averages given as an example. A typical large camper or motorhome will require greater power collection from the solar panels. Also, the solar panels will not collect much solar energy on cloudy, rainy days. So, your system should have some excess capability. Still, three or four average size commercially available RV solar systems will provide adequate electrical power for the largest RVs.
Selecting the Solar Panels for Your Application
There are several considerations that will guide your decision.
First, beware, there are many brands and styles of solar panels available on the market. Not all solar panels are equal—either in efficiency or quality.
How many solar panels do you need for your RV?
Not all solar panels are rated for the same output, so lower output panels would have to be larger. Higher output (more efficient) panels deliver more power but may cost more.
How to choose solar panels for RV
When selecting solar panels, the follow should be determined:
The maximum daily (24-hour) power requirement for your camper.
The solar power efficiency of the system you are considering.
The total area of the solar panel array required to deliver the amp-hours of power you will require.
Price and ease of installation or set-up and use.
How will the solar panels be set up once camping? Will they be placed on the ground or permanently mounted on your RV. Mounting on the RV is convenient, but more expensive. Simply setting them on the ground or on a table is easy and allows you to easily adjust the position of the panels for maximum direct sunlight during the day.
Do you need an additional battery to store all the power you need?
Ease of storage, transporting, and set-up of the solar panels.
Are solar panels on RV worth it?
Like any purchase associated with your camping, you have to determine the value of the investment within the context of your camping experiences. If you camp exclusively in commercial campgrounds that provide electrical hookups, then it is unlikely the investment in solar panels will provide any significant value.
They may be a good investment if you want to:
"Get off the grid" or have the flexibility camp in areas where electrical hook-ups are not available—and still use your powered devices.
Have an emergency power supply available in the event of a major power outage at home.
RV Solar Panel Recommendations
About our recommendations: There are several recognized and respected companies that offer dependable solar panel systems. Keep in mind these kits are systems—more than just the solar panels. Make sure the system you purchase includes all of the necessary components including the solar panels, charge controller, inverter/charger (if needed), battery isolator, battery monitor, and all mounting hardware and connecting wires and fuses, as well as installation and operating instructions. Note that not all solar panel "kits" contain all the needed components for complete installation.
Finally, you may want your camper technician to install the connectors—or the complete system—and go over the system with you.
Our Top Three Recommended Solar Power Systems for RVs
The following are three of the solar power systems we really like. There are many other suitable brands. Make sure you know what is included and if you will need professional installation help.
Important: make sure you know exactly is included in the solar panel kit, and what else may be needed to complete the installation—not all kits include installation hardware.
Note: When shopping for solar panel systems, you will see similar systems that vary significantly in price. Carefully review exactly what is included, and shop different vendors to get the best price.
Renology 200-Watt 12 Volt Solar Premium Kit
Renology is a premier camper and RV solar panel company, offering several sets of panels, from single-panel to four-panel systems. The two-panel set should deliver 1000 Watt-hours of electricity per day.
Key Features:
Monocrystalline panels
Kit may not include mounting hardware
Can be monitored via a mobile phone
Several different mounts can be used depending on your requirements (not included)
When comparing different offers for the Renology kit, make sure that the kit includes the controller and the BT1 module.
Renology: $206.00
This smaller, lightweight solar panel will provide power for several days. It is designed to be installed on the roof of an RV but could be set on the ground.
Mounting hardware may be extra and may depend on your mounting requirements.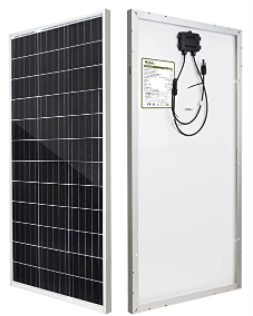 Key Features:
Bypass diodes to minimize power drops
Monocrystalline panels
Pre-drilled holes for quick installation
Several different mounts can be used depending on your requirements (not included)
Amazon: $90.00
Windy Nation 400-Watt Solar Panel Kit
Windy Nation is another well recognized manufacturer of solar panels. The 400-Watt set will provide all the electrical power requirements for any RV.
Key Features:
Four Monocrystalline panels
Bypass diodes to minimize power drops
Mounting hardware included
Several different mounts can be used depending on your requirements (not included)
There are several combinations of this set that range widely in prices.
Frequently Asked Question
Can residential solar panels be used on an RV?
The short answer is "Not really." While the solar energy collecting materials of residential and RV solar panels is similar, residential solar panels are designed for permanent, stationary installation, and the connections are different. They are not really designed for frequent connection/disconnect. RV solar panels are typically lighter, smaller, designed to be handled routinely.
How many solar panels do I need for my RV?
For smaller campers—15 feet long or less, you can get by with one panel, and three panels will be sufficient for most larger campers.
How long do RV solar panels last?
Properly cared for, solar panels will remain productive for 25 to 30 years or more. Approaching 25 years of use, solar panels may lose some solar energy conversion efficiency—but may be longer than the life of the RV!