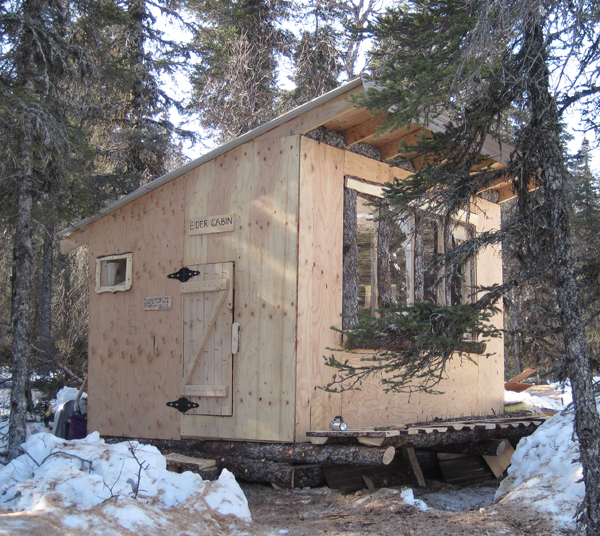 Rob Fisk sent me these photos of a tiny 8′ x 12′ cabin he and three friends just finished building up near Dillingham, Alaska. Here's what Rob told me:
I went up in March with 3 friends, dug out the snow, built it, insulated it, and made it cozy in 2-weeks for under $2,000. Two of us had some building experience, and two of us had none. This cabin will serve as a base camp while I build a slightly larger log cabin with a loft next season (this one will be a dry, warm, efficient, bear-proof place to retreat to while building). We hauled the materials out by snow machine, melted snow for water, camped in -9 weather, cooked on a campfire and flat top woodstove. We are all really pleased.

This is the second cabin that I've built. I love tiny cabins and owner-built projects. I always felt that if people knew that I could do it, they could too!!! Me and my friends are not burley at all… very small people…..ha!!!
The cabin looks great and a good example of how a small space can be built for so little money. The simple design probably contributed to the overall low cost and time to build. An 8′ x 12′ cabin can be built more easily because it uses the building materials more efficiently. A simple shed roof will also go up much faster because of its simplicity.
Rob also makes experimental music and his first release is titled How to Build a Cabin. You can learn more about this project and the music at COMMON EIDER, KING EIDER.
Thanks again Rob!