Tiny houses have a broad appeal to many people because they can be placed practically anywhere, including in many different communities and even off the grid.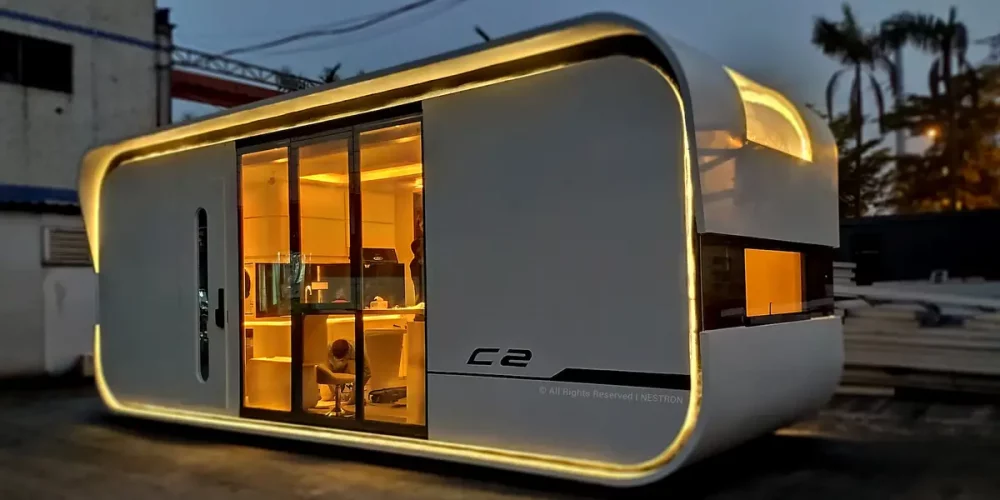 Some people have pondered the idea of going ultimately off the grid, but the luxuries and technology that they're accustomed to keeping them from leaving – that and the life that they built where they live now.
However, moving off the grid doesn't necessarily need to include cutting ties with one's former life. Now, it doesn't even need to mean giving up those modern luxuries!
About Nestron's High Tech Tiny Smart Homes
Nestron, a company out of Singapore that is developing affordable, state-of-the-art housing, has offered a solution to the growing number of tiny house fans. Nestron's small homes are equipped with power and water hookups and anything else you need to live on your terms.
Their website claims a simple "pick, place, live" process for anyone who purchases one of their tiny homes.
The company and its customers boast about the low carbon footprint that each owner of the Cube 2 is responsible for. Cube 2 owners can even perform essential functions, like turning on/off lights or adjusting the temperature, with their voice!
How Much Is a Nestron Cube 2 Tiny Home?
Their most popular option is the Nestron Cube 2, which is an affordable way to meet the expectations and needs of most Nestron tiny home buyers. At a range of about $60,000 to $85,000, the Nestron Cube 2 gives consumers a way to own their very own fully-furnished home for the price of a car!
The Cube 2's price can seem confusing to some due to its wide range. The tiny homes come in many different versions for various needs. Nestron also offers customizable add-ons to provide the buyer with extra perks for their new home.
After deciding which add-ons a buyer wants to get and after they finish selecting from the other customizable options for a Cube 2, the website will calculate the final cost of their tiny home.
Nestron Cube 2 Floor Plan
The Cube 2 includes a living room, bedroom, kitchen, bar counter, and bathroom. These rooms are crammed into 26 square meters (280 sq. ft.) of living space. After all, it is a tiny house. People don't have to use it as one, though. The Cube 2 makes a perfect camper for getting close to nature without needing to say goodbye to technology.
Nestron Cube 2 Camper Specs and Features
The Cube 2 is resistant to foundation-boring pests, like termites. It is fully furnished and ready to be plugged in and lived in immediately upon arrival. That is if the customer didn't opt in to one of the three solar-power options that are available. Plus, the Cube 2 comes with a 50-year warranty!
Nestron Cube 2 Weight
The Nestron Cube 2 weighs almost 8 tons, at 15,432 pounds (7000 kg). Most campers typically weigh from 2,000 to 5,000 pounds (907 to 2268 kg.), so the Cube 2 is quite a bit heavier than its camper counterparts.
It also appears heavier than the typical mobile home. For reference, a typical mobile home usually weighs 3,000 to 10,000 pounds (1,360 – 4,535 kg). Its weight includes appliances, though, which are not included
Exterior Outlook
From the outside, the Cube 2's simplistic and minimalist design looks like it's from the 22nd century. It would look good anywhere from a modern, classic neighborhood to somewhere way out in the middle of nowhere.
The designers equipped the Cube 2 with loads of double-layered, plexiglass windows, and a skylight sits above the kitchen and the bed.
Interior Features
Modern minimalism flows inside the Cube 2, perfectly pairing with the exterior. There is a voice-operated and heated floor for the ultimate luxury experience.
The living quarters are reminiscent of those in a science-fiction film set in a community spacecraft. Rounded corners and neutral colors are paired up in a futuristic little house.
Nestron Cube 2 Plumbing
People already install the pipes for the plumbing, and here is a standard waste and water hookup for the average owner.
When paired with the solar power add-on, a compost add-on allows one to be entirely off the grid.
Voice Control and SMART Tech
The voice control system is one of the Cube 2's main selling points. It controls everything in the space, from the lights and curtains to the TV and temperature.
Studies find that 48% of people prefer voice control for things like the internet and general web searches, so as technology advances, it will be a crucial feature going forward.
The website lacks many good examples of someone using voice control other than this, which is disappointing, considering it is such an important selling point to the Cube 2.
Fully Furnished
Yes! The Cube 2 comes with the essential furnishings for each room, as listed below.
Bathroom
Shower,
Towel Rack
Basin
Toilet
Kitchen
Bedroom
Built-In Bed Rack
Wardrobe
Bar Counter
Living room
Pest Control
The Nestron Cube 2 is termite resistant, thanks to the materials used to construct the cube that is not attractive to termites.
Termites tend to swarm after rainfall during the spring months, and if people aren't careful, they can have an insect infestation before they know it.
The sleek design of the Nestron Cube 2 helps disperse rainwater that falls on it so it can repel water damage that is a primary cause for termites entering homes.
Thanks to the increased visibility both inside and outside the unit, there are also fewer places for other pests to hide.
The Nestron Cube 2 is also easier to clean thanks to its size and design, making you less likely to attract pests through the clutter.
Nestron Cube 2 Reviews
"This is a sleek, modern foundation-less home with a skylight for stargazing!" TinyHouseTalk, reviewing the Cube 2.
"Tiny homes may not be for everyone, but this tiny home may turn some heads and change some minds." In The Know, reviewing the Cube 2
Nestron Cube 2 Tiny House Pros and Cons
Next, we will look at the pros and cons of the Nestron Cube 2.
Pros
Affordable
Self-Sustaining
Move-In Ready
Cons
The Nestron Cube 2 is cheaper overall than other tiny house brands and models and has a unique and sleek design with excellent visibility.
The plexiglass used in the construction of the unit leads to excellent energy efficiency. It allows you to save on the costs of heating and cooling your tiny home when the temperature changes.
It is pretty small, even for a tiny house, and it is not a mobile tiny home, so you will need to transport it if you are thinking of using it as a way to vacation or camp out.
Are Nestron Cube 2 Tiny House Worth It?
This question is up to the wants and needs of the buyer. For those who have been thinking of getting a camper or tiny house but want one with a bit more pizazz, the Cube 2 is worth every penny. For those who are comfortable in their home or have a large family, the Cube 2 probably won't be worth much… unless it gets used as a camper!
The Nestron Cube 2 has excellent value pound for pound with all the features it manages to cram into its design, and anyone interested in a tiny home will find the price to compete well with others on the market.
Nestron Cube 2 Alternatives
There are a few alternatives to the Cube 2, but none other than Nestron's other homes have the same level of design and applicability as the Cube 2.
Alternatives to the Cube 2 would include a mobile home or tiny house, or perhaps a camper.
Some brands that act as an alternative to the Nestron Cube 2 include:
Mustard Seed Tiny Homes
Mustard Seed homes are more expensive than the Nestron Cube 2, but they have a more classic look.
They have the advantage of offering a park model RV version and a tiny home version, which means they have higher quality materials and generally last longer.
If you don't like the post-modern look of the Nestron Cube 2 and want something that looks a little more American traditional, Mustard Seed homes are a good premium option.
Wind River Tiny Homes
Wind River homes are closer in price to the Nestron Cube 2 and give a rugged feel compared to the sleek look of the Neston Cube 2.
Wind river homes celebrate simple living and minimalism, so someone off the grid might find the features of a Wind River home more suited to their tastes.
There are fewer high-tech features, but you will also be lowering your carbon footprint and saving more money on utilities. People who like an old wood-finished aesthetic might enjoy a Wind River home if the Nestron Cube doesn't do it for them.
Where to Buy Nestron Cube 2 Tiny Houses in the U.S.
To purchase a Cube 2, go to Nestron's website and browse their online selection. After having picked out and designed a Cube 2 to fit their needs, customers can have them shipped anywhere in the world.