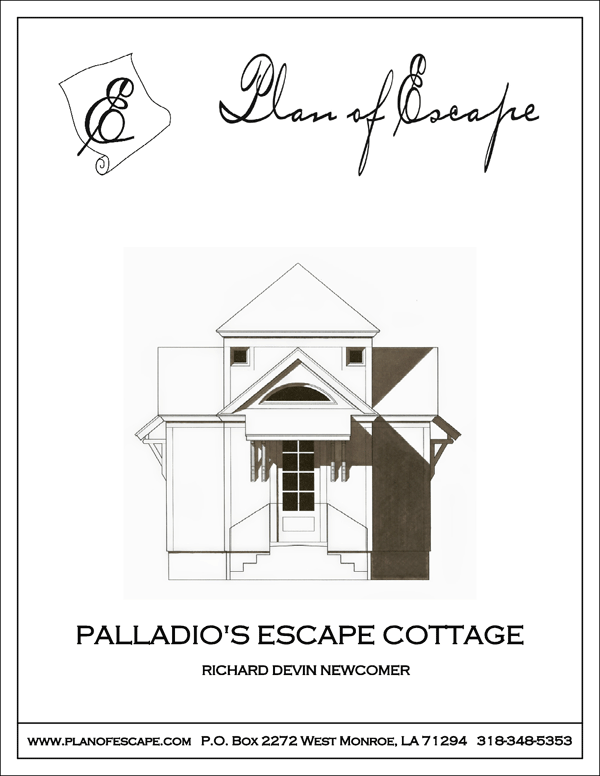 This small prefab home drew a lot of interest when I first posted it here on Tiny House Design. Palladio's Escape encloses 412 square feet and has a footprint that measures 18′ by 26′. Inside you'll find a full kitchen, two small pantries, an eating bar, living room, and space for a washer and dryer. It also offers a large bedroom with amble storage space plus a sleeping loft. It's really incredible how much function Ricky Newcomer has packed into this small house design.
Ricky sent me a copy of the 84-page plans to review and I was blown away by the high level of quality, detailed lists of parts, and assembly instructions. The plans also show how each wall component is built and how they all bolt together to form the unique design.
If you don't have the skills or desire to tackle a project of this size, but want the house, Ricky will build one for you to the closed-in stage for $29,000 (check his website for complete details). Also included in this price are high quality double glazed insulated windows and a front door. His prototype was built using a lot of reclaimed building materials which naturally took quite a bit of extra time and effort, so the houses he builds for clients will be built with all new materials.
Below are some sample pages from the plans and a few photos of the prototype.
Update April 2013: Unfortunately these plans are no longer for sale 🙁