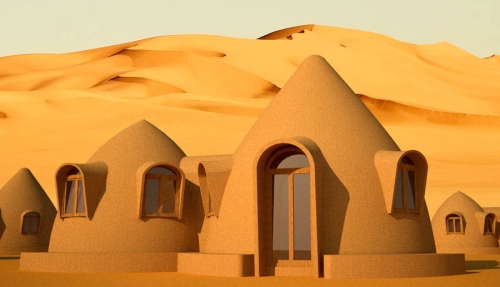 The folks at the Natural Building Blog have been expanding their small house plans selection. This two-dome design is 257 square feet and has a loft in the larger dome.
If you're not familiar with earthbag construction, it's essentially a home made from the dirt under your feet. It's scooped up and put into bags – like old grain bags or sandbags. Then they are stacked up like bricks. You can build strait walls, curved walls, and domes. Visit this tutorial to see how an earthbag dome is built.
Here's what they say about this house plan:
"Like other tiny houses, Tinyville provides just the basics in a compact space. It is intended as a starter house for those with little or no building experience and very little money. This design joins a 13′ interior diameter main dome with loft and a 10′ interior diameter small dome, with a vaulted passageway. 133 sq. ft. interior main dome, 38 sq. ft. loft, 78 sq. ft. small dome, plus 8 sq. ft. vault, 257 sq. ft. interior total; footprint: 16′ x 29′ plus benches."
See more of the earthbag dome home designs at the Natural Building Blog.