Top 5 reasons why it is a fun place to visit:
Hang out at the Rockport Beach
Visit the Goose Island State Park
Explore the Fulton Mansion State Historic Site
Check out the Big Tree (a 1,000-year-old tree)
Visit the Texas Maritime Museum
List of top 10 RV Parks in the Rockport, TX area:
(Disclaimer: information is a compilation of researched info as published online and does not necessarily reflect the experience or opinion of the author)
The RV parks have been ranked and are listed from "Most Recommended" to "Least Recommended" based on reviews, feedback, amenities, and preference. Cost was not the primary ranking driver. Please note that weekend RV families with children might have different needs than full-time RV "snowbirds".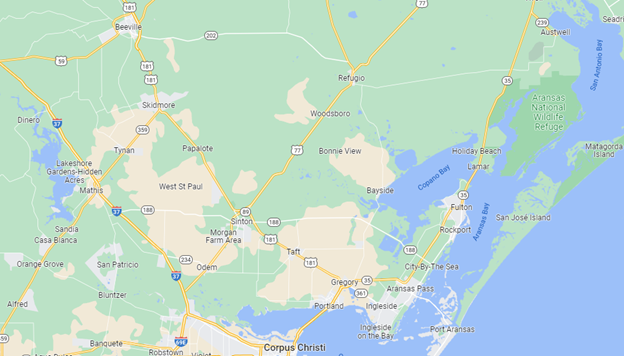 1. Coastal Breeze RV Resort
This park is one of the newest and most popular parks in the Rockport area; its location is perfect, with close water access, nature, and close proximity to tourist attractions.
What makes this park unique?
Many luxurious amenities, as well as breathtaking views of nature, such as the blue herons, make this park a perfect choice for stay in the Rockport area. The sites are very generous in size and the grassy lots are nice to have.
2. Ancient Oaks RV Park and Campground
This park is under new ownership that is trying hard to make this a top destination choice in the area. There are many different amenities and activities that the visitors can enjoy, as well as the surroundings that are simply amazing.
What makes this park unique?
According to their website, "campers at Ancient Oaks RV Park can enjoy a full array of activities from outdoor recreation to planned activities. The heated swimming pool and inviting Jacuzzi are just steps away from your campsite and bring a boat to enjoy the Texas Gulf Coast and make use of our on-site boat parking.
There is also shuffleboard, horseshoes, and a pool room with TV, and a gathering area, and a 7,000 square foot Pet Park, where you can allow your pets to run free.
There are plenty of activities in the winter as well: enjoy card games, dominoes, crafts, and bingo. There are also special meals planned to include potlucks every Monday night, Ladies Lunch, Men's Breakfast, and holiday celebrations." (Source: Rockport, Texas RV Park Facilities at Ancient Oaks RV Park).
3. Fulton Oaks RV Park
In this park-like setting, one can stay in a mobile home, a cabin or in their own RV on one of the spacious sites. This is a friendly park with activities geared toward older adults.
What makes this park unique?
This park is a regular, no-frills RV park with basic amenities in a park-like setting with mature trees that provide shade and privacy. It welcomes short-term visitors, as well as "winter Texans" who stay awhile.
4. RV Haven
Close to the Texas State Aquarium, the Aransas Wildlife Refuge and Port Aransas, this park is in the center of all the tourist attractions in the area. Everything is very close, which makes this park a great place to stay at as a "home base" while exploring the area.
What makes this park unique?
This park is big-rig friendly, with 4 pull-through sites. Mature scattered oaks provide for the shade and ambience. This park is located on a private well.
5. Southern Star RV Resort
This park is more of a long-term stay park. It has all the basic amenities and is close to beach and tourist attractions in the area.
What makes this park unique?
This park has nicely paved and level lots and mature shade trees. The park is secluded to be nice and quiet, but within short driving distance to the beach and to town.
6. The Quiet One Travel Trailer Park
This park has been in operation for over 40 years. It is great for a short visit or for a long-term "Winter Texan" stay. It is nice, clean, and quiet.
What makes this park unique?
This park has spacious spots and mature shade trees. The spots are mostly level, with all the amenities to stay for a longer time (aka good fit for full-time RVers). The management is fair and friendly. It is an older park, about 5 blocks away from the waterfront.
7. Lagoons RV Resort
This park has been operational and serving the community since 1998. There are many different activities for visitors to enjoy.
What makes this park unique?
The lots are all paved and level, with grass and mature trees throughout to provide shade and privacy. This park is close to the Fishing Pier, the Oyster Fest, the Schoolhouse Museum, and the Rockport Beach. The park kas large 60 ft sites reserved for annual stay, but also 40-70 ft long sites for all visitors, as well.
8. Rockport 35 RV Park Resort
This park might appear a bit tight when it comes to RV spaces, but it makes up for it with the atmosphere and friendly attitude. It is close to all the local activities. This park is now called Wilderness Oaks RV Resort.
What makes this park unique?
Owned by a military veteran family, this friendly park strives to make people feel comfortable and welcome. There are many full-timers staying at the park.
9. Beacon RV Park and Marina
This park is within walking distance to shops and restaurants in the area. It has a coastal vibe and an intimate atmosphere. Rockport, TX is a top 10 retirement community and there are many things to do for everyone in town.
What makes this park unique?
Close to Aransas Bay, this park is at a wonderful location to make beachside memories. The park owner strives to make it a comfortable and still affordable stay for the visitors. There is a plethora of things to do in the area, including dolphin watching. The sites are some grass and some cement pads. There are some pull-through sites available for RV's up to 40 ft long.
10. Sandollar Resort Motel and RV Park
This is a larger park with full amenities that are conducive for a longer-term stay. The location is perfect to stay and explore the area and to travel to the islands, as well.
What makes this park unique?
This park has narrow sites, but there are mature oak trees on the property that provide shade and privacy.
TIPS TO GET TO ROCKPORT
When traveling on I-37 toward Corpus Christi, one can take TX-359 or TX-234 to US-181 or TX-35 toward Rockford. Rockford is located near San Jose Island and Port Aransas, as well as the Aransas National Wildlife Refuge.