Ever seen those tiny houses that look like metal sheds? Yep, those are barndominiums!
If you're considering building the barndominium home of your dreams, here is everything you need to know, such as the best barndominium floor plans, costs, and benefits to inspire you to get started.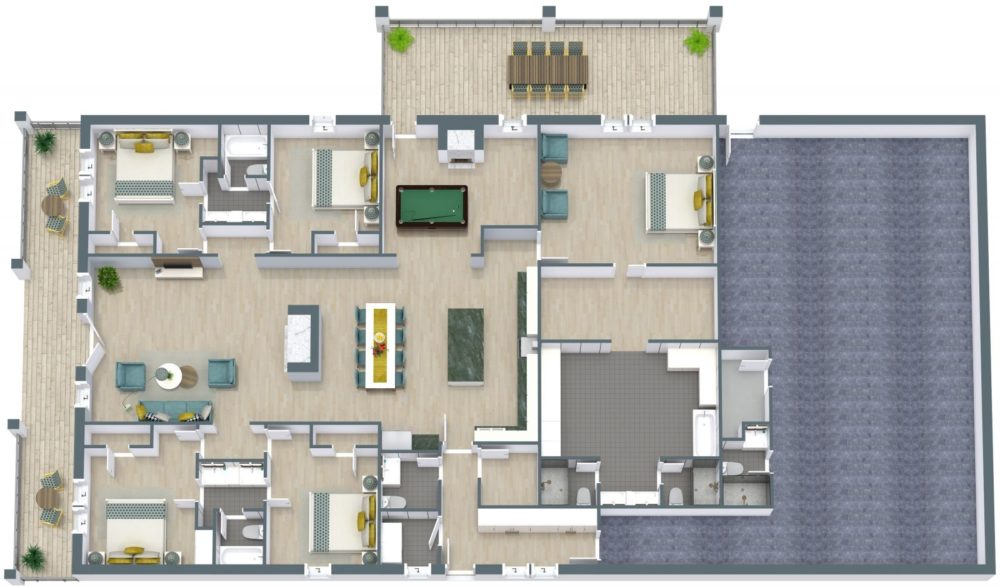 What is a Barndominium?
Just as the name suggests, a barndominium is like a mash-up of a barn and a condominium. They're also known as barndos, and people use them as an affordable home option.
What makes it so affordable? Well, barns are originally intended for agriculture. This makes them scalable, and quick to construct (since most metal barns are pre-made in a warehouse).
Can You Design Your Own Barndominium?
It's 100% possible to design your own dream barndominium. In fact, that's what most people do. You can have your barndominium up in just a few weeks (or days!).
The possibilities for barndominium floor plans are endless since the ceilings are high and the floor space is expansive. Just think of it as an affordable metal shell that you can get creative with.
Top 5 Simple Barndominium Floor Plans with Cost
Design 1: 3 bedrooms with shop
If you need your barndominium floor plan to contain a large shop area without sacrificing your bedroom count, consider this simple layout. Although the shop area takes up almost half of the floor plan, there's still enough room for 2 guest bedrooms and a master bedroom. If needed, you could convert some of this shop space into a laundry room.
If you plan on introducing family and friends to barndominium life, this layout may be the best option for you.
The price of this property will cost around $200,000.
Design 2: 800 square feet 'mini' barndominium
If you've got limited space – around 800 square feet or 80″ x 80″ – consider this slight barndominium floor plan that fits loads into a small space. The open plan kitchen, eating, and family room takes up most of the floor plan, allowing for sufficient cabinet and countertop space.
The remaining space provides enough room for two bedrooms and one master bedroom, alongside a washroom, closets, and a pantry.
This property will likely cost upwards of $76,000.
Design 3: 2-story barndominium floor plan
A second floor works well if you've got limited floor space as it means you can double the number of rooms available.
This particular floor plan features a bedroom on the ground floor and a bedroom on the second floor (no master bedroom). It also boasts a cozy living room on the ground and second floor, as well as a spacious kitchen and dining area on the ground floor. It would be possible to make space for such additions as a laundry room if necessary.
The second floor will definitely make this property over $180,000.
Design 4: The big family barndominium floor plan
Sometimes it can be difficult to fit enough rooms in simple barndominium floor plans. This particular layout provides a solution, with 4 separate bedrooms (including a master bedroom with a large walk-in closet) as well as a study, garage, kitchen, and family room.
At 1889 square feet, a property like this will cost more than $179,455.
Design 5: Couple's barndominium floor plans
If you don't have kids, this compact barndominium floor plan provides everything a couple would need in terms of living quarters. With a master bedroom, open plan living space, closet, porch and shop, this floor plan truly makes the most of limited space. If you don't require as big a shop space, you could easily convert the space into a laundry room or extra bedroom.
The price of this property will depend on the square foot total.
5 Interior and Exterior Barndominium Pictures
Simple Barndominium Kits
Looking for an easy and cost-effective way to build our own barndominium?
Steel companies offer simple kits typically consisting of all the main and secondary frames, exterior metal sheets, trims, closures, fasteners, and the building instructions. Basically everything you need to build the outline of your barndo!
The price will depend on the floor plan that you choose but it starts at about $10 per square foot.
These kits make things a lot easier if you aren't a home building expert. They are made for quick and easy assembly. It's a great first step to get the basics of your barndominium in place. Many people prefer using kits because you still have a lot of room for customization.
Whatever design you desire, you can work with an expert to create a barndo kit exactly how you want it.
Average Barndominium Cost per square foot
The cost to build a barndominium is roughly $70-$90 per square foot.
It's important to consider that the building costs aren't purely influenced by square footage. The types of materials used for the interior and exterior also play a role in the price.
Potential exterior costs include:
Steel or aluminum siding
Concrete slab foundation
Landscaping
Roof, doors, windows
Verandas, porches, balconies, patios
Fencing
Potential interior costs include:
Flooring
Ceilings
Appliances
Plumbing and electricity
Countertops and hardware
Furniture
Decor
The more custom features and luxuries you plan to have in your barndominium, the more it's going to cost you.
Pros and Cons of a Barndominium
There are plenty of awesome reasons why people choose barndominiums over houses, or even as an addition to their house, including:

Pros:
The building costs are low.
Construction time is short.
The metal shell (siding and roofing) is simple to construct.
It's easy to source the necessary materials and work with them.
Metal is fire-resistant and can stand up to harsh weather conditions, which makes barndominiums a safe option.
Metal buildings are also more energy-efficient.
They are low maintenance.
They can easily be adapted for a variety of uses.
Extensions and upgrades are simple.
Barndos are excellent for homesteading.
They can be used as a temporary housing solution.
Cons:
It might be more difficult to take out a loan for a non-traditional building.
Metal prices are on the rise.
Making the rooms airtight can be challenging. You might have to try different interior finishings such as spray foam.
Although barndos seem to be small, they are often large so you need to have a big enough piece of land to build on.
There may be local laws around constructing or occupying metal structures.
Barndominium Cost Vs House Cost Comparison
Traditioninal houses obviously provide you with more space, but barndominiums are cheaper to build and maintain – or are they?
Is it cheaper to build a house or barndominium?
A traditional house will cost you about $150 to $250 per square foot, which is more than double the price of a barndominium.
Barndos are usually around $70 to $90 per square foot including basic insulation, utilities, floors, paint, and lights. And the price for a simple metal shell and no finishings will cost you somewhere around $20 per square foot.
Since these are so quick and simple to build, you can save even more money on labor, construction, and foundation design.
Keep in mind that prices will fluctuate depending on the barndominium floor plan, types of material, and the interior designs you pick. For example, a modern multi-story barndo with balconies and hardwood flooring will cost a lot more than a minimal one-story barndo with cheaper finishes.
With that being said, if you're planning on building a barndominium as your family home, or even a guest cottage, you'll want to kit it out properly, even if it means spending a little more.
Are Barndominiums Worth It?
In terms of cost and durability, barndominiums are definitely worth it. Are you looking for an option that is more energy-efficient, requires less frequent maintenance, and has multi-functional spaces that are highly customizable? If you answered yes, then a barndominium is worth it!
Barndominium FAQs
Will banks finance a Barndominium?
Yes, it is possible, however, it can be challenging since they are unfamiliar to some lenders.
Most barndominium owners had success with farm credit lenders and local banks – especially if they were existing customers.
If you're wanting to get finance from a national lender you will need to show them proof of solid plans, actual contractor bids, and a good credit score.
What is the life expectancy of a barndominium?
Durability is a big reason why people choose barndominiums. With normal care, a steel barndo can last for 50 years at the very least, while a wooden one can last for well over 100!
As with all material objects, they last as long as you take proper care of them. And of course, the construction quality has an impact too.
You can extend the lifespan of your barndominium with the correct maintenance.
What is a good size barndominium?
Like any building, barndos can be any size that suits your needs. But the most common standard size for a barn home is 40 x 75, which is big enough for a living space, master bedroom, additional bedrooms, and even a laundry room.
How safe is a barndominium from hurricanes?
As you know, steel is super sturdy. But is it sturdy enough to protect you from a hectic storm?
You'll be relieved to know that a well-designed and constructed steel barndominium can withstand very strong winds. In fact, winds up to 120 Mph (193 Kph) don't stand a chance up against a barndo.
You should be well protected from minor hurricanes in your barndo, as long as you make sure your doors and windows are resistant to heavy impact too.
Can you build a Barndominium anywhere?
Before building your barndominium, you'll need to check the local area's regulations and get a construction permit.
Certain areas require that the exterior of your house looks a specific way according to a set of rules. For example, some areas only allow you to paint the walls of your house white. Another thing to find out about is the height restriction for buildings in the location you choose.
Your best option is to get in touch with the local building official. They will check that your design is compliant with the local zoning regulations.
Keep in mind that building a barndominium is the same as building a conventional house – you still need to obtain a permit before you begin building to avoid any issues down the line.