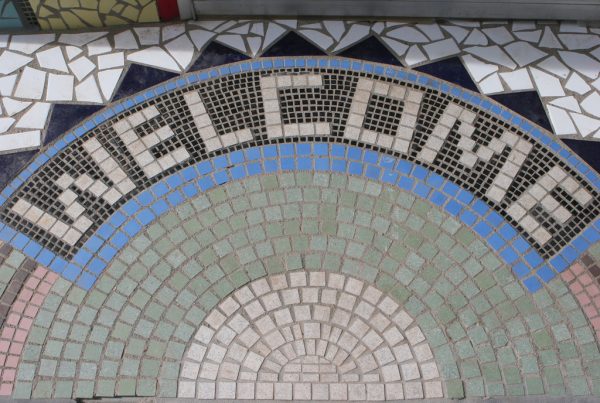 Beverley Magennis was one of my favorite teachers in college. Over the years I've lost contact with her but recently stumbled into photos of the home she carefully crafted in Albuquerque, New Mexico. I actually house sat for her once for the good part of a week in the early 1990's and got to spend some time living in this tile house. I found these great photos of Bev's tile house on flickr (photo credit queenodesign).
The lower level was a ceramics studio and the upper floor was her home. It looks much bigger from the outside than it really is too. The living area has a very simple and compact floor plan. It's not a tiny house but I wanted to share with you the idea of mosaics made from… well… anything.
The interior is covered from ceiling to floor in mosaics, and not just tile mosaics. Bev used everything from bottle caps to cereal boxes to match sticks. Don't worry the match sticks were already blown out. The final result is an incredibly vibrant interior and exterior or patterns that flow around and through the house. It's an amazing sight and ironically not that overwhelming once you've gotten over the initial shock.
She got all this debris from people all over Albuquerque. Bar tenders would save her bags of bottle caps. Tile shops would save her broken boxes of tile. Bev networked with everyone she could and eventually ended up with a backyard filled with tile and other bits and pieces of stuff and a house covered with beautiful mosaics. Today Bev's daughter Erin and her husband Kyle like in the house and have a busy mosaic business of their own.
Now imagine being the first person to build a mosaic tiny house. It would take time, and it would be very heavy, but it would be a very cool sight indeed.