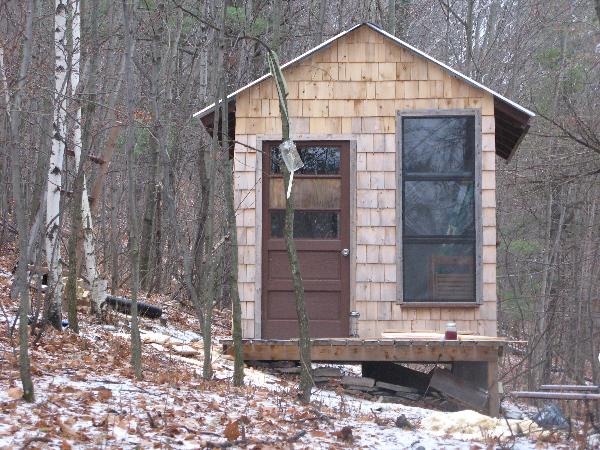 This tiny cabin in upstate New York is mostly built from building materials left over from the construction of a larger house. It measures 8′ by 8′ and has a little sleeping loft. It's framed with 2x4s and insulated with styrofoam boards. I'm not sure how they plan to use it but it seems like the perfect little shed-sized cabin for weekend retreats and it's an excellent example of how a tiny living space can be built for very little money. At this point they have about $900 invested.
I also assume this was built without permits and since it has no plumbing or electricity, and is not a primary residence, it would be perfectly legal to built virtually anywhere. Check your local planning department first for their definition of a shed but I suspect you'll find tiny structures like this one would fall right into their definition easily.
But while you're checking those building codes be sure to find out what rules and laws are in place for staying overnight in such a cabin before you decide to build one. You'll often find that many communities do not permit camping on your own land. Also take note that staying overnight in what the authorities consider a shed is likely to be considered camping by local law enforcement. I don't want to discourage anyone but it pays to do your homework before you buy land or build.
The other great thing Jeff has done is post a lot of construction photos. If you're unfamiliar with how a simple structure like this is built be sure to take a look at this web page. It will show you step-by-step how this little cabin was built. Photo credit Jeff & Deb.