Top 5 reasons why it is a fun place to visit:
Visit different local wineries
Participate in wine and cheese tasting
Book a hot air balloon ride
Tour the different wine estates
Enjoy countryside nature
List of top ten RV Parks in the Napa, CA area:
(Disclaimer: information is a compilation of researched info as published online and does not necessarily reflect the experience or opinion of the author)
The RV parks have been ranked and are listed from "Most Recommended" to "Least Recommended" based on reviews, feedback, amenities, and preference. Cost was not the primary ranking driver. Please note that weekend RV families with children might have different needs than full-time RV "snowbirds".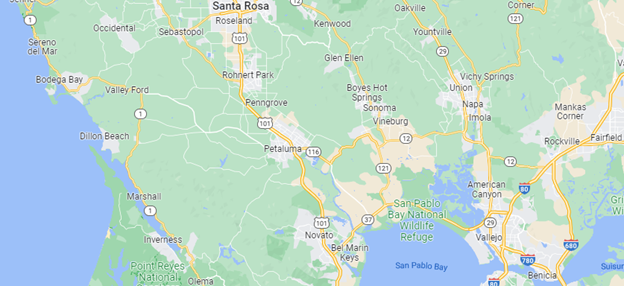 1. Lodge 0832
According to their Website, there are RV sites for members in good standing. The Lodge is nestled among mature trees, surrounded by a picturesque 360-degree view.
What makes this park unique?
This park is for Elks members only, but it is located at a prime location in Napa to do all the local things, such as wine tasting or cheese tours. There is also a large banquet hall for weddings, anniversaries and other celebrations that can be booked and catered.
2. Skyline Wilderness Park
Nestled in the beautiful Napa Valley, this park has access to everything nature, including a 25-mile hiking trail that is suited for all levels of experience/fitness.
What makes this park unique?
The park is nice and secluded, with lots of trails for hiking or biking. It is very peaceful and serene there; this is a perfect place for nature-lovers. This place has breathtaking sunsets.
3. Lake Solano County Park
A recent fire devastated much of the park and the staff is just slowly trying to restore the amenities as the park is recovering.
What makes this park unique?
Located on Putah Creek, this park has water views, as well as beautiful nature surroundings. Red Flag warnings/rules apply to avoid fires. Please check website for updates.
4. Canyon Creek Resort
Located just 30 miles east of Napa and 40 miles from Sacramento, this park is within driving distance to all the wineries and estates one can visit, as well as close to any local tourist attractions. This park is also set up nicely to relax and unwind in nature.
What makes this park unique?
Part of the Vista Resorts group, this RV park boasts all the amenities this ownership group offers. This park is a great destination stay for couple's retreats or family gatherings. It is located on Lake Berryessa and it is providing access for private camping members. Non-members can be guests for 2 nights' stay to spend a trial stay at a fixed daily rate.
5. Napa Valley Expo RV Park
According to their Website, this park is within 55 miles of all these attractions: "
Six Flags Discovery Kingdom, Vallejo, a short 11 miles away
San Francisco—Home to Chinatown, Pier 39, Cable Cars, The Golden Gate Bridge and Alcatraz Island tours and much much more. Do not want to drive—hop a ferry boat in Vallejo with daily ferry service to Pier 39 or the Ferry Building in San Francisco
Sacramento—Home to the State Capitol, Historic Old Sacramento, Cal-Expo, Water World and More!
Oakland—Jack London Square, The Oakland Zoo
Infineon Raceway—is located just 24 miles away. Home to several nationally televised events including NASCAR NEXTEL Cup, National Hot Rod Assoc. (NHRA) drag racing, The American Motorcycle Assoc, IRL and the Indy Car Series." (Source: Napa Valley Expo- The RV Park)
There is also plenty to do locally, from wine tasting to shopping or restaurants.
What makes this park unique?
This park is less than a mile from downtown Napa and there is so much to do in the area! The sites are nice, and level and the amenities are clean and updated. There is a 28-day limit on stay and there are back-in and pull-through sites available.
6. Lupine Shores
According to the Website, "[a]t capacity, Lake Berryessa stores 1.6-million-acre feet of water and is one of the largest bodies of fresh water in California. The lake is 23 miles long, 3 miles wide, with 165 miles of shoreline. Reclamation and the Blue Ridge Berryessa Partnership jointly manage a 2,000-acre wildlife area along the east side of the lake. Nestled between Blue Ridge and Cedar Roughs, east of the Napa Valley, Lake Berryessa offers year-round recreation opportunities. Berryessa's water reaches temperatures of up to 75 degrees in the summer, making it an ideal place for water sports. Anglers enjoy fishing for both cold and warm water species, such as rainbow trout, bass, catfish, crappie, and bluegill. Lake Berryessa provides many opportunities to experience a variety of wildlife and plant exploration activities. The grassy hills dotted with oak and manzanita provide excellent opportunities to view eagles, hawks, songbirds, wild turkeys, and deer. Hiking, bird watching, photography, and picnicking are all popular activities year-round." (Source: Lake Berryessa)
What makes this park unique?
Located close to Lake Berryessa, this campground is surrounded by nature and has water access for all the fun activities that come with it.
7. Bothe-Napa Valley State Park
The best-kept secret for an incredible stay in the heart of Napa Valley, this park is nestled in nature, with a creek and many shade trees surrounding the site. The site elevations range from 300-2,000 feet, with only 5 miles to St. Helena and 4 miles to Calistoga.
What makes this park unique?
According to their Website, "There are picnic areas, a swimming pool and numerous trails for hiking, biking, and horseback riding. There are also 50 developed wooded campsites, nine of which are walk in only. The park has restrooms and showers along with group, family and "hike or bike" campsites. A visitor center is also available with a Native American garden next door. The plants in this garden are still used by the Wappo people." (Source: Bothe-Napa Valley State Park (ca.gov)).
Max RV length is 24 feet.
8. Marin RV Park
This park claims to be located on the sunny side of the Golden Gate Bridge, about 10 miles north of San Francisco, with prime access to all things San Francisco. This park is a little over 1 hr. drive away from Napa Valley.
What makes this park unique?
This RV Park is within driving distance to San Francisco, as well as close to all the local attractions in Napa Valley. All RV's must be self-contained.
9. Samuel P Taylor State Park
According to their Website, "[m]ost of the park's campsites lie beneath majestic redwoods, with a few (at Devil's Gulch and Madrone) under oaks and bay laurel at the bottom of Barnabe Peak. Newly built cabins are also available. Reservations are highly recommended for regular campsites every day during peak season and on weekends year-round. Reservations are required for group sites and cabins. Please note that the Creekside Loop (sites 1 through 25) is closed for camping December 1 thru March 1st due to seasonal flooding. The Orchard Hill Loop remains on reservations year-round. Samuel P. Taylor State Park's 2,882 acres offer shady strolls through the stately redwoods along Lagunitas Creek as well as exhilarating hikes to the top of Barnabe Peak, one of the best viewpoints in Marin County." (Source: Samuel P. Taylor SP (ca.gov))
What makes this park unique?
"You can camp among redwoods, bike along the creek, explore easy-to-moderate hiking trails, watch salmon spawn, relax in the shady picnic area, and learn the story of its namesake pioneer. When you have finished all that, more adventures await just next door at Point Reyes National Seashore. Samuel P. Taylor State Park is popular! The park is experiencing extremely high visitation and our Azalea Day Use lot often fills up by mid-morning on weekends. We recommend carpooling while visiting, or visiting the park on weekdays, or on weekends, early or late in the day to minimize wait times. Have an alternate plan and destination in mind if parking is full at your time of arrival. When our Azalea Day Use lot is full, vehicles are slowly metered as other vehicles depart. Wheelchair-accessible South Creek Trail winds 1.5 miles through a fern-filled forest on the banks of Lagunitas Creek. In the rainy season, you might see spawning salmon and flowers such as fetid adder's tongue, giant trillium, and redwood sorrel along the way. Creek access is closed from December 1st through June 15th each year to protect the spawning salmon and their offspring." (Source: Samuel P. Taylor SP (ca.gov))
Note: Max trailer length is 27 feet and max motorhome is 31 feet.
10. Midway RV Park
This is a family friendly RV park that is centrally located to the San Francisco East Bay Area and Napa Valley wine country.
What makes this park unique?
This park's location boasts in rich history, as the eucalyptus trees were used in the 1900's by the railroad company to fuel the steam engines.
TIPS TO GET TO NAPA
Close to the San Pablo Bay National Wildlife Refuge, Napa, CA is located within short distance of Sonoma and Vichy Springs. One can get to Napa from the east/Sacramento area via I-80, from the north area via CA-128, from the south/San Francisco area via I-280/I-580/I-680 and from the west area via the US-101/CA-12.