Are you thinking about converting to tiny living? Are you wondering where's the best tiny home community? Keep reading to find 10 wonderful tiny house communities in the USA!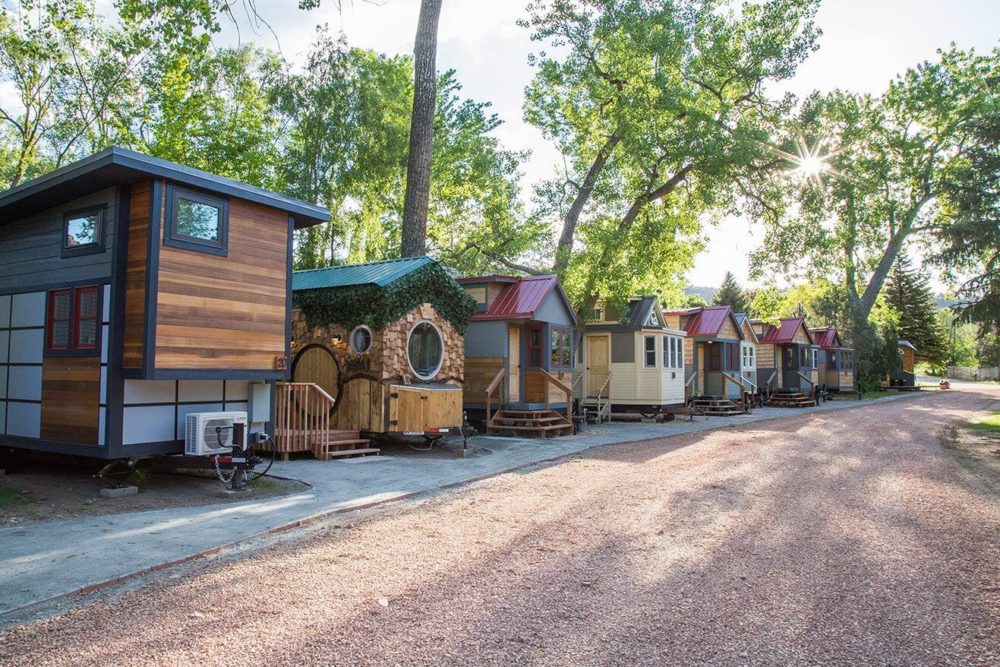 Settling down in a tiny house and being part of a community is all the rave right now. Saving money, saving space, and saving the environment. It doesn't get much better than that.
Are There Tiny Home Communities in the United States?
Absolutely!
The tiny house movement is expanding from temporary vacation to permanent living. There are tiny communities all across America as the tiny house movement blossoms, thanks to entrepreneurs and businesses that are recognizing its growth.
How Do Tiny House Communities Start?
It begins with a group of like-minded individuals that want to downsize their home and together they'll find a plot of land to do so.
A tiny house community cannot be built wherever you please. Your development plan must fall under the local building codes and zoning laws.
Then you must install the necessary utilities needed for a tiny house community to live. You'll need to install things like electricity, Wi-Fi, and water – unless you're planning to go completely off the grid.
You'd need to look into hiring a professional to implement the utilities inside the tiny houses. It's not worth the risk of injury for an intermediate to try it themselves.
You can find a great tiny house community without having to find a group of like-minded individuals.
If you're not wanting to grow your own community of tiny houses, then you're in luck. Now that the movement is growing, it means communities already exist.
What Cities Have Tiny House Communities?
1) Community First – Austin, Texas
This village is transforming its residents' lives by lifting long-term homeless people off the streets and into homes.
Community First is a beautiful village full of hard-working permanent residents that aim to build new families.
There are hundreds of micro-homes and RV parks in the community. Alongside a large movie theatre and walking trails, there are pottery classes and woodwork shops so they can earn an income. It's a wonderful, heartwarming tiny house community.
2) Quixote Village – Olympia, Washington
Quixote Village believes that everyone deserves affordable housing, especially those who have been living on the streets.
Just like Community First, they believe in human problems being solved by human solutions.
The residents get affordable housing and can work in the community.
The tiny homes reduce their carbon footprint and employ an energy-efficient structure. Although it's classed as permanent housing, the residents aren't knuckled down if they don't want to be there.
3) Escalante Village – Durango, Colorado
Creative individuals can flourish in this community by decorating their tiny homes. Imagine customizing your living space on the outside as well as on the inside? No two houses will look the same.
These unique, gorgeous homes exude personality, charisma, and charm. Plus, the village is only a bike ride away from local amenities.
4) River Ridge Escape – Georgia
These gorgeous woodsy tiny homes differ from economy to luxury, with a variety of models to choose from. Your tiny home can be shipped anywhere in the country thanks to Escape's several tiny home communities across the mountain.
You could be living in Little River Escape where you'll be surrounded by the views of Lookout Mountain. This stunning gated community consists of a fitness center, scenic walking trails, a pool, a dog park, and a community garden. You can enjoy S'mores by the community fire pit and an early morning sail on a canoe down the river.
5) Palm Canyon Mobile Club – Palm Springs, California
You think Palm Springs, you think sun, architecture, and adventure.
The stigma of over-priced homes is no more with Palm Canyon's Mobile Club. These tiny houses are bigger than most, with the option of a 2 bed and 2 bathroom property.
You can pay a monthly rent that will include all of the amenities. This is an extremely popular tiny house community so it's important to regularly check their website for homes on the market.
6) Simply Home Community – Portland, Oregon
Simply Home Community was built on the grounds of a home. It's still in the planning stage, but the residents hope to build a hot tub and further extend their community gardens. They have regular community dinners and meetings in the house and each resident can design their tiny home themselves. Its large greenery allows a great walk and safe space for pets.
7) Canoe Bay Escape Village – Rice Lake, Wisconsin
This gorgeous village is surrounded by woods, nature, and lakes. It takes your breath away. The large open waters, warm architecture, and thousands of bushy tree-tops will leave you stunned. There are rental spaces but you'll want to turn your temporary visit into a permanent stay once you experience life here.
8) Tiny Tranquility – Waldport, Oregon
This is exclusively for tiny living, in homes and RVs. Its tranquility comes from the short walk to the beach and game nights at the Fir Lodge. Surrounded by blissful scenery, there's a park for pets and various fire pits. These tiny homes look like a luxury but come at a reasonable price.
9) Orlando Lakefront at College Park – Orlando, Florida
This is a growing tiny house community.
Tiny house dwellers are welcome to secure their spot on the grasslands of Orlando, Florida. The residents here are dedicated to living a simple life but still like to take advantage of downtown Orlando that's only a short drive away.
Soak up the sun on the fishing docks or sail through the shade on Lake Fairview. It's mainly for permanent residents but that doesn't mean it won't welcome you for a few nights. Your home on wheels allows you to come and go as you please.
10) Park Delta Bay – Isleton, California
The area is amazing, being close to so many central locations means you'll never be bored here. The park is located along the river with the choice of an RV park, cabin sites, and tent sites. There's a communal clubhouse, pool, and tennis courts.
It's a true tiny home community that annually hosts community events for people wanting to learn about all the trials and tribulations of owning or renting a tiny house. This tiny community can enjoy the plentiful birds and nature views and the jaw-dropping sunset on the lake. It's certainly one of the most refreshing tiny house villages in California.
Things to Look Out for When Searching for a Good Tiny House Community
Hookups
Usually, your tiny house village will include power, water, and internet in the price you pay for the spot on their land. However, some tiny homes, like an off-grid super home, might not need all of the necessary hookups that are included in the price. If you're one of these people, then you might not want to pay the full price.
Amenities
If you're looking for a tiny house community and not just a tiny house, then make sure to research what the land has to offer. Find somewhere that offers community events, dinners, and fun areas like a pool, a park, or a lake.
Local Laws
Your tiny home journey needs to be completely legal. Make sure to ask questions to your chosen community. You want to know what permit is required, if you're allowed to stay permanently and if the local code enforcement has agreed.
Renting vs Buying
Thankfully, tiny communities offer both options and it's all down to your personal preference and situation. Renting is a great way of taking a step rather than a jump. You want to be sure that this is the right move for you.
Permanent Tiny Homes vs. Tiny Home Parking
Permanent tiny homes provide you with amenities that you'd usually receive in a normal household. They're also typically settled in big cities with plenty to do nearby.
On the other hand, tiny home parking with your house on wheels gives you the freedom to come and go, and try out new communities.
How Much Does It Cost to Live in a Tiny House Community?
The cost will vary depending on where you live and what type of tiny house you're after. Usually, the bigger the house the bigger the spending. Enjoy browsing through the different villages to find the perfect price for you.
How to Find Tiny House Communities Around You
There's a good chance that there are tiny house communities near you if you live in a big city.
There are also regular tiny living events being held all over the US for people interested and wanting to meet similar people.
Otherwise, check out this website to find some tiny houses near you.