How Do Full Hookups Work At RV Parks?
Many privately owned RV parks offer full hookups to their visitors. In addition, many State/Regional Parks, Corps of Engineers etc. RV parks also offer at least partial hookups (water and electric, with a dump station access).
There are several apps one can use to locate RV parks with full hookups: Rv Parky, RVLife, The Dyrt, Allstays, Campendium and ParkAdvisor are all great.
National Parks and BLM areas offer camping areas without hookups, with the exception of 3 sites in National Parks (NP) that actually happen to have RV hookups: the Fishing Bridge campground at Yellowstone NP, the Colter Bay RV park at Grand Teton NP and the Trailer Village at the Grand Canyon NP.
Difference Between Full And Partial Hookups
Full hookups at an RV park means that you have on-site dedicated and personal access to a water spigot, an electrical outlet (usually it is either 30 Amp, 50 Amp, 30 and 50 Amp and even 120 V), as well as sewer outlet connection.
Partial hookups refer to any hookups that are any combination of electric only, electric and water or electric and sewer. Many such sites do offer potable water fill stations, as well as dump stations on site, so that one can still stay for an extended amount of time and refill or empty the tanks as often as needed.
Many new RVers prefer full hookups as they like to use all the amenities their RV has to offer. As RV travelers get more comfortable and adventurous, as well as familiar with the features of their RV, they are more flexible and more open to find sites with partial hookups or even offgrid.
Partial hookup sites are often more affordable, less "commercialized" and easier to get into (for example: Lost Dutchman State Park in Arizona is so popular that one has to take the "rugged sites" without hookups, unless booking months in advance).
Sometimes, State Parks or other parks cannot offer full hookups due to infrastructure limitations or environmental issues: more remote parks in the mountains (such as parks close to Glacier National Park) or parks right on the ocean might not be able to offer septic services. However, RVers still prefer the experience of the location over full hookups.
What Does Full Hook Up Include?
Full hookups for RVs usually include water, electricity and sewer AT MINIMUM. Some parks also offer free WiFi, cable and additional amenities, such as laundry, dog parks, community area, library, gym, or even a pool with scheduled events.
Any RV resort offers full hookups plus added amenities.
Below is a list of things you will need in order to be able to use each feature/amenity for full hookups:
Water
When you pull up to your site, whether it's pull-through or back-in, there will be a water pipe or a pedestal with a water spigot close to your site. Sometimes (not often), there is even an outdoor sink next to it!
You will need a pressure regulating valve (PRV) and a water filter, as well as a long enough hose to connect your RV to the water spigot.
The PRV will protect your RV components and plumbing from water pressure damage. The water filter is good to have since you don't know what kind of water quality is present at the site. With regard to the water hose, make sure you have several hoses, one at least that is 35 ft long.
Some people bring a hose splitter for added water usage access and convenience at the water spigot.
Electricity
The electric pedestal has pre-wired RV outlets for either 30 Amp, 50 Amp or a 30/50 Amp choice, as well as 120 V outlet (most of the time). Know your RVs electrical needs and bring the appropriate adapter (such as this one: 30 to 50 Amp Adapter), if the site does not offer the Amperage you require. For example, many travel trailers are 30 Amp while most fifth-wheels are 50 Amp. Your RV will come with a long and heavy power cord. Make sure you park your RV in a spot that allows you to reach the outlet with your power cord.
Another critical accessory is a surge protector, such as Watchdog Surge Protector that will protect your RV appliances and your electrical system from power surges, brown-outs and black-outs. Without one, you can fry your RV electrical components, leading to thousands of dollars in damage repairs.
Sewer
The sewer outlet hookup is usually in the ground and has a circular white cover on it; however, older RV parks might have a metal flap over or even just a brock or a rock covering the hole! This is where you will connect your "stinky slinky" or sewer hose.
Some people choose to hook everything up when they arrive, some people only hook up the septic when they are about to empty it, prior to departure, or not at all (if it's just an overnight stay).
Again, make sure that you have extra sewer hoses and connectors so that you can extend the hose to reach the outlet.
Some helpful extras include a clear 90-degree elbow that you connect to the sewer outlet to attach the hose to. Another tip is to have the hose supported in a way that the flow goes downward toward the outlet, allowing gravity to empty better. Some people also use sewer hose supports to make sure the hose is evenly stretched out and supported, away from the ground.
High-Speed Wi-Fi
Some RV parks offer free WiFi: the password is usually written either on the map you receive during check-in, or on a whiteboard in the office. At some RV parks, the WiFi is strongest in certain areas, while other RV parks offer WiFi packages for extra purchase or strong WiFi in community areas, such as kitchenettes, lounges or laundry rooms.
How Much Do You Need To Pay For Full Hook Ups?
The cost of paying for full hookups varies greatly from state to state, city to city and even based on the area. Popular destinations such as Florida Keys can charge up to $100/night for a full hookup site, whereas a small RV park in Oklahoma might charge $27/night for full hookups.
When an RV park offers full and partial hookups, the partial hookups are often up to 50% cheaper than full hookup sites. In addition, partial hookup sites are often used as overflow sites.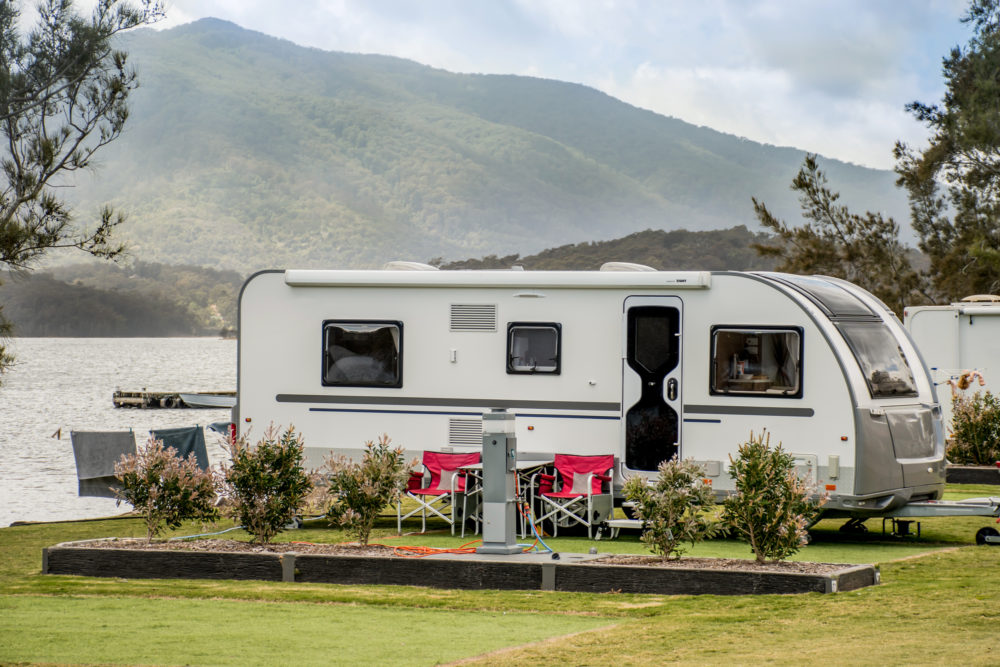 Do RV Parks Offer Additional Services?
Some RV parks offer additional amenities and refer to themselves as resorts for that reason. For example, many KOAs have a pool, a playground, trash pickup, scheduled activities, a dog park, mini golf, basketball court, a convenience store, a laundromat etc.
When booking an RV park, the most sought after added amenity is laundry access, followed by pool, dog park and gym.
Benefits Of Full Hook Ups In An RV Park
An RV park with full hookups is usually the preferred location for RVers to stay, even for short term stays. After a long travel day, people like to use their electricity and water to cook, wash, relax and have the comforts of their "home on wheels".
Some full hookup RV parks end up becoming long-term tenant spots, which, overtime, can devalue the overall feel of the RV park. In addition, the RV park is responsible for maintenance and guaranteed functionality of each hookup spot.
Ignorant or uncaring users can quickly damage the water spigot or electric outlet. Also, in the winter or peak summer months, the increased electric load might be pricier for the RV park owner-a metered electric bill might be a better solution for weekly and monthly guests.
FAQs
Is propane included in full hookups?
Propane is hardly, if ever included in the RV hookup fees. RV owners are responsible for their own propane use and refill. Some RV parks offer on-site refills, however. You still have to pay the posted per-gallon price to the RV park.
Is cable TV included in full hookups?
Many RV resorts or nicer parks include cable TV in their amenities and provide a list of available channels. Some RV parks rent a receiver and coax, as well.
Do all campgrounds have full hookups?
No, although many do offer full hookups in order to get business and fill their RV spots. The RV park often advertises on their site or on apps what kind of hookups are available.
What does electricity hookup 30 mean?
"A 30 amp plug has three prongs – a 120 volt hot wire, a neutral wire and a ground wire – and is generally used on RVs with lower load requirements. A 50 amp plug has four prongs – two 120 volt hot wires, a neutral wire and a ground wire – that supply two separate 50 amp, 120 volt feeds." (Source: koa.com.)
Can you plug your RV to your house?
Yes, with the proper adapter and an extension cord, unless you have a pre-wired 30 or 50 Amp outlet (an electrician can do that for $200-450). If you plug your RV into the 120 V outlet, you will only draw 15 or 20 Amps, which means you cannot use all your appliances (incl. AC). Many people plug in their RV at home to charge their RV battery and to pre-cool their refrigerator.