To know the worst RV brands, you have to understand RVs enough to understand what makes one better than another. An RV, or a recreational vehicle, is a significant expense. So you have to make sure you do some due diligence when you're considering buying one.
We'll help steer you clear of the worst RV brands and models.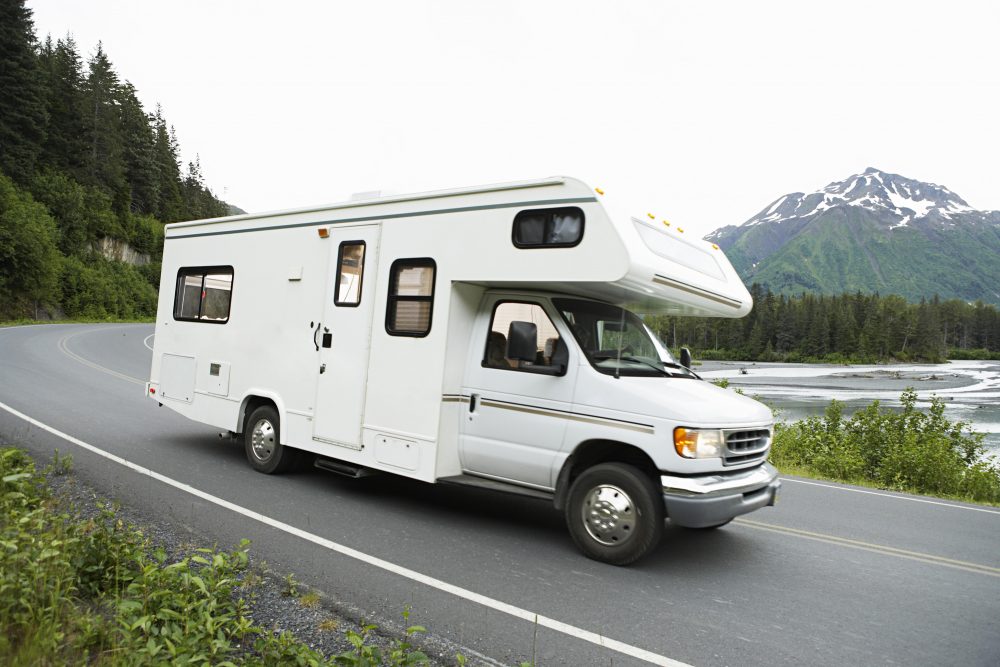 Things to Know About RVs and Their Brands
The price range for new RVs varies significantly based on the type of RV you're shopping for. Class A motorhomes (full-size dedicated chassis) are at the top of the food chain and are much more expensive than towable RVs. Their small counterparts like Class B motorhomes (camper vans) and Class C motorhomes (van or truck size) are much less costly.
The best RV makers like Airstream, Dutchmen Brands, and Forest River offer a lineup of different models from which to choose. But the brand you buy also influences the price. Class A model pricing can easily approach $200,000, and in many cases, exceeds $500,000. Some fancy models, like those owned by famous celebrities, can cost even more.
Class C motorhomes from the top makers come in around the $100,000 mark. Class B models can vary from anywhere in the mid $100,000 range, all the way up to about $200,000, depending on how they are specced out.
With those sorts of prices, it's not a surprise that some companies try to pass off inferior products as high-end. And there are also some companies that make no secret that they aim to use cheaper materials and building techniques. Some brands are just worse than others.
We think that there are three to avoid when buying a new RV.
The Three Worst RV Brands to Avoid
We don't like to knock companies, but right now, we can't recommend shopping for three brands of RVs. The top three worst RV brands are Hurricane, Fleetwood, and Gulfstream. And don't automatically take our word for it. There are some widely reported issues you should know about, so take a look at what customers say about these brands of RV.
1) Hurricane
The Hurricane RV is made by Thor Motor Coach. The company was born out of a merger between Damon Motor Coach and Four Winds International in 2010. They have four factories in Indiana where they make their various RVs, trailers, and other motorhomes.
The NHTSA shows at least two open recalls on Thor motorhomes, with one affecting various Thor Hurricane models from 2019 to 2021. This recall is because of an increased risk of fire due to an issue with the electronic control center circuit board. Beyond that specific issue, many new Hurricane owners complain about leaks, fitment issues, problems with the climate control systems, and other issues that should be ironed out before delivery.
While Thor is known for decent customer service, their quality control has a reputation for being very poor.
2) Gulf Stream
The Gulf Stream brand has been in operation since 1983. They have a line of RVs and campers with more than 130 models, most built at their facilities in Indiana. While Gulf Stream has a huge product line, many of its RVs and campers are under active recall campaigns.
The pervasiveness of recalls to remedy issues with their products isn't a good sign. Not every issue is major, but many of them are safety-related. For instance, certain Enlighten models from 2020 are missing their front trim on the refrigerator. That might not seem like a big deal, but it helps isolate the cabin from the exhaust gasses created by the engine. There's a risk of poisonous carbon monoxide entering the cruiser's cabin without it.
3) Fleetwood
Fleetwood RVs are made by the REV Group. REV is a manufacturer of commercial vehicles, RVs and campers, and even some emergency vehicles. Each product line has its own group, so that can be confusing. The REV manufacturing headquarters for RVs is in Decatur, Indiana.
REV's Fleetwood RVs are plagued by issues that range from the annoying to the dangerous and sometimes both. For instance, there is a recall on some 2021 models for a problem with the motor that lifts the bed frame. If that motor fails, someone could get hurt quite easily.
There are also more than a half dozen other active recalls on the 2021 Fleetwood model alone. Something isn't right if there are this many issues with such a new vehicle.
More Information on RV Issues
In fairness, a couple of these companies have been around for a long time. But, in recent years, their reputations as quality RV builders have taken a big hit. That's because they have too many quality control issues like leaks, fitment problems, and poor workmanship in general.
Plus, it seems like they have been using cheaper materials that aren't anywhere near as sturdy as the ones on their predecessors were. The evidence of this decline is that many of the older models from Gulfstream and Fleetwood have almost no issues, while the newer ones are much more prone to quality problems.
Common RV Buying Mistakes You Should Avoid
Anytime you're making a big purchase, you have to avoid mistakes. When purchasing an RV, it's even more crucial to do things right because you're risking the safety of your family inside the RV if you don't. So, make sure to avoid common RV buying mistakes.
Virtual Inspections
If you don't take the time to physically inspect your new RV, it may leave you blind to significant issues. That's because salespeople for RV manufacturers and sellers aren't going to show you anything that's not up to par. They can use tricks and deceptive marketing techniques to keep your eyes off the problem areas, especially if it's a virtual visit.
So, remember that pictures and videos don't cut the mustard. A hands-on, first-person inspection is the best way to get your eyes on any signs of leaks, damage, or problems before you take delivery and sign over your hard-earned money. This sort of inspection, usually done at a factory or sales depot, is the only way to properly examine your RV's fit and finish before you buy it.
Rushing Your Purchase
If you make your RV purchase in a flurry of activity, you won't make the best decisions. Rushing doesn't work when you invest significant sums of money in an RV. Don't be intimidated by aggressive sales tactics. Instead, take the time to investigate the company making it, consumer forums, and the reviews of real owners.
By taking your time, you'll have the chance to be more careful with paperwork as well. So, you can ensure that you get the right options and packages you want on your new RV.
Not Reading Specs Carefully
You have to thoroughly and carefully review all of the documentation on your potential RV purchase and any other relevant paperwork. If you don't spend the energy to do so, it's really easy to end up with serious issues.
For instance, if you don't know the exact dimensions of your RV, you don't really understand where you can store it. If it's just a few inches longer than you thought it would be, it might not fit in a parking place. Or, there might be local zoning laws that limit where you can park vehicles of certain sizes.
Plus, RVs have tons of features to understand, there are all kinds of dimensions to consider, and you need to make sure you know how to operate all of the onboard systems. Don't forget. An RV is like a home. It requires a lot more than just driving it around to take care of one, and that includes emptying wastewater tanks and refilling your water systems.
Should You Consider Buying Used RVs Instead?
Buying an RV is a serious undertaking. When they're brand new, you know that no one has abused it and everything is fresh and clean, but it can be a massive investment. So, it's unsurprising that there is a substantial market for used RVs. It can't hurt to consider buying used RVs instead of making a larger investment on one that's brand new.
Plus, older models tend to be better built than their modern cousins. That's because manufacturing quality has seemingly dropped precipitously over the years.
Even though you can get a good deal and perhaps find an older RV that's more solidly built than a new one, you should still be realistic about the type and size of RV you need. Just because you can afford its purchase price, can you handle the costs of upkeep?
When shopping for a used RV, always follow these tips:
Inspect the inside and outside carefully
Don't forget to examine the mechanical systems and drivetrain too
If you're really savvy, you may want to consider purchasing a used RV and trying to resell it to recoup a large portion of your money. Many families only use an RV for one or two seasons. So think about how you can optimize your resources by buying a used RV.
You may also want to consider renting out an RV before you commit to buying one. If you have a particular model in mind, it's a great idea to rent one before you sign your money away on one of your own.
FAQ
Some questions about RVs and brands come up all the time.
Who builds the most reliable RVs?
The most reliable RVs are built by the top manufacturers. Even though they have solid reputations, it's still important to inspect RVs in person, read all of the relevant paperwork, and always avoid rushing into a purchase. Some of the best names in the business include the following brands.
Airstream
Dutchmen
Northwood Manufacturing
Jayco
Winnebago
What is the cheapest RV brand?
The cheapest RV brand is probably Thor. Their product line has various models in different price ranges, so it's not like every option is inexpensive. But, within each segment, Thor has a reputation for affordability. However, that low pricing seems to also come with decreased quality control and more issues due to the use of inexpensive but inferior components.
What are the types of RVs?
There are a few types of RVs. We already talked about some, but here is a quick reference:
Class A Motorhomes – These are the biggest RVs ranging from 30 to 45 feet in length.
Class B Motorhomes – This class of motorhomes is sometimes called a van camper. They're usually between 18 and 24 feet long.
Class B+ Motorhomes – Class B+ is reserved for motorhomes with a larger footprint and more amenities than smaller Class B models.
Class C Motorhomes – Class C motorhomes are usually about 30 feet long, and they're a little bit bigger than Class B+ models. They typically have a small section of the cabin over the driver's cab, where there is usually a sleeping area.