How Do You Tow A Travel Trailer?
Figuring out how to tow a travel trailer can be a somewhat intimidating task to first-time RV owners, but it really is not that complicated or challenging. You need to make sure that you are methodical with each task.
Take your time with the hitch connection, as well as going through the entire process slowly and ensuring that you check for all safety measures before taking off and while towing.
A good dealership should be able to help you with the proper hitch selection, setup and connection.
Before you figure out how to hitch your trailer, however, you need to make sure that your row vehicle is able to tow your trailer safely. Make sure you check the towing capacity of your vehicle and compare it to the GVWR (and adding any max cargo weight, like full water and propane tanks and your belongings, for safe measure).
Your tow vehicle should always have a towability margin built in, so you can tow comfortably in all terrains.
Make sure your tow vehicle is set up to tow a trailer: you should have a travel trailer hitch attachment that is compatible with your travel trailer hitch. Some dealers also recommend (and include) an anti-sway bar, especially with the ultra-lite and longer trailers to allow for better towing experience and to avoid fishtailing.
Most new RVs have a motorized hitch assembly. Make sure that your 12V battery has enough charge to operate the hitch to be able to lower it onto the hitch ball on the truck.
With the proper ball hitch installed on the hitch receiver in the tow vehicle, make sure you back up to the travel trailer. Have someone assist you, or use the backup camera (if you are experienced with backing up).
Your RV should be disconnected from water, electric and sewer, with all the leveling jacks retracted.
The trailer hitch should be about 2 inches above the hitch height to allow for the ball on the towing vehicle to be backed up directly under the hitch receptacle.
Back in the tow vehicle, making sure the trailer hitch lift is aligned within ½ inch of the tow vehicle hitch ball.
Use the down button to lower the trailer hitch to engage the hitch assembly. If necessary, you might have to pull the tow vehicle up a touch, or back it just a tiny bit to engage the hitch mechanism.
Once engaged, drop the hitch lift assembly completely with the down button. Use the latch and the hitch pin to secure the ball, and the hitch chains to connect to the towing vehicle. The chains should be crossing one another before they are attached to the tow vehicle.
Attach the breakaway cable to the towing vehicle. It should be loose enough to allow for turns, but it should not be scraping the ground (same with the chains), as this would cause damage to the chains and possibly cause fire sparks due to friction.
Plug in the electric connector from your trailer to your tow vehicle; these are the brake lights for the trailer that respond as the tow vehicle brakes.
Before you take off, do a final walk-around, remove any leveling or chock blocks and make sure that your doors and windows are closed and locked. The leveling legs and your awning should be completely retracted for travel.
Check out these videos for helpful tips and first-time walk-through on the topic of towing your travel trailer or fifth-wheel: https://www.youtube.com/watch?v=f6iQlb9poB4 or https://www.youtube.com/watch?v=0cw1fXQShZU
Some things to keep in mind:
Stopping distance/response time (since you have a heavy trailer behind you)
Turning angle of your tires (make your turns wider)
Your overall dimensions
Length and maneuvering when you are backing in
What Kinds Of Trucks Can Tow A Travel Trailer?
Since RV dealers are notorious for over-selling RV trailers to customers without a proper towing vehicle, below is some key information to consider before you purchase your RV:
RV dealers are by law required to run the towability numbers for your tow vehicle before you take it off their lot; however, the towability calculator truly gives you just the upper limits of what your vehicle is capable of.
Many newbie RV owners purchase an RV just to find out within a month that their tow vehicle does not handle the extra weight well or that they cannot tow the new RV comfortably.
Just because the numbers say it's possible doesn't always translate well into real life.
Bottom line is: your towing vehicle should have enough towability power margin so that you won't have to upgrade your towing vehicle.
Travel trailers come in all sizes: the small teardrop trailers can often be towed by a larger SUV, even a Jeep. Next, you have the ultra-lite and lite trailers that are advertised to be towable with a ½-ton truck.
While this may be accurate to some extent, these trailers are challenging to tow due to their tendency to fishtail. Many individuals are more comfortable towing these trailers with a ¾-ton truck, if possible.
Of course, if you ask most RVers, they would prefer as big of a towing truck as they can afford.
A bigger truck handles the towing much better, from starting position to uphill towing to stopping on a downhill tow.
Modified trucks, such as a lifted truck, can tow an RV; however, you have to make sure that you accommodate the height difference with your hitch settings. Certain towing comforts might be compromised in the process, as well.
For example, an "off-road" lifted truck might experience more chucking when towing an RV, because its modifications were not designed for towing, but for all-terrain driving.
What Size Truck Do You Need To Tow A Travel Trailer?
The size of your truck will depend on the towing needs based on the weight of your RV, as well as the amount of your passengers and the cargo in the towing vehicle and in the trailer.
There are online calculators that help you figure out ballpark numbers, but keep in mind that these are mostly guidelines, so it's always a good idea to keep a generous margin in the towability numbers area.
The formula for towing capacity goes something like this: "RV Dry Weight + Passenger's Weight + Cargo + Liquids = Total Weight. Total weight must not exceed towing capacity. Disclaimer: Your vehicle's max towing capacity equals passenger weight, added accessories, any current liquids in tanks, and ALL cargo." (Source: pikespeakrv.com.)
There are two numbers that you need to pay attention to when trying to figure out the weight of your travel trailer: the Gross Vehicle Weight Rating (GVWR) is the empty weight of the trailer and the MAX GVCC is the GVWR plus the max weight capacity of the trailer (cargo, full tanks).
The weight of your trailer can be figured out by looking at the VIN sticker located on the frame of your trailer. Locate the GVWR (gross vehicle weight rating) on the sticker.
Factors To Consider When Choosing A Tow Truck For Your Travel Trailer
What are some things you should research and decide before purchasing your trailer towing vehicle?
Below are some things to consider:
How many passengers will you have? Make sure your vehicle is scalable.
Will this vehicle be used for regular transportation when not towing? (Truck vs. SUV)
Will you need additional cargo space in the towing vehicle?
What is the trailer weight? See section above on how to determine the towing and payload capacity of your vehicle based on the trailer weight.
Do you want a diesel or a gas vehicle? Consider the fuel and maintenance cost vs mileage and performance.
Will you require additional safety features, such as back-up assist, blind-spot alert, brake assistance (for heavier trailers)?
Will you need a four-wheel drive vehicle or will a two-wheel drive suffice? If you plan to travel in inclement weather or through mountains a lot, you might want to consider going with a 4WD.
What's your budget? We all have a dream list, but many are limited by a budget.
Do you prefer a short-bed truck or a long-bed truck? Each has advantages and disadvantages when it comes to towing. Short-bed trucks are easier to maneuver, but their turning radius (especially with the fifth-wheel) might be challenging and requires a specific hitch choice/adaptation).
In order to get the specific information per specific vehicle, you can check the following capacity chart comparison: auto.howstuffworks.com.
Before you pick up your trailer, you have to have a vehicle that is towing-ready: this includes the appropriate hitch, as well as an electric plug-in outlet for the trailer brakes. This is about a $250-500 prep job, and many mechanics shops can do this, as well as towing/hitch shops. UHaul also sells different hitches, if that's all you need. You can also purchase those online.
Some SUVs and trucks offer a tow package or tow prep. This includes the hitch setup, often added towability (in lbs) and electric hookups for trailers. You can add some of these features after-market, but if you are purchasing a vehicle with towing in mind, it is a good investment to add on the towing package to save money and time.
5 Best Trucks That Can Tow A Travel Trailer
Ford F-150
Stability
Versatile towability options
Dependable choice
7-liter EcoBoost V6 engine
Can tow up to 12,200 lbs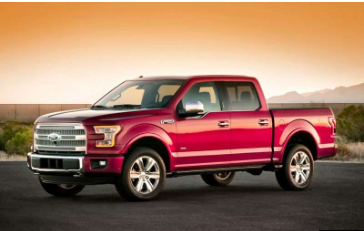 Dodge Durango
With towing package, can tow up to 6,200 lbs on V6 or up to 7,200 lbs on the V8 engine
Great for bigger families
Versatile vehicle (when not towing RV)
Mercedes-Benz Sprinter
Can be used as stand-alone van (extra cargo)
Diesel
Great stability
A bit pricier
Can tow between 5,000-7,500 lbs
Chevrolet Tahoe/Suburban
Can tow up to 8,000 lbs
Large capacity cargo
Tows well in the hills
Comfortable interior features
RAM 1500 EcoDiesel
The V6 turbodiesel engine is EPA-rated at 19 mpg city and 27 mpg highway, comparable to a large car
Ok for city commuting
Towabilily between 7,960 and 9,290 lbs
Source: www.autobytel.com
Can You Rent A Truck To Tow Your Travel Trailer?
Yes, certain companies rent out their trucks for towing.
Enterprise has a specific truck rental division for this purpose:www.enterprise.com. You can rent a ¾-ton or a 1-ton truck, starting at $99/day or $135/day, respectively.
UHaul offers trucks that can tow trailers that are up to 6,000 lbs. Their prices vary greatly by location due to UHaul being now independently owned, but it's comparable to the Enterprise prices (Source: www.jeffsetter.com.)
Penske does not offer rental trucks to tow an RV.
Keep in mind that due to the liability and extra risk of incurring damage to the tow vehicles, the premium (incl. Insurance requirements) might be much higher than when renting passenger vehicles.
FAQs
What is the easiest travel trailer to tow?
Any little trailer under 4,000 lbs is easy to tow. Below are some choices:
GVWR: 3,900 lbs. nuCamp TAB 400.
GVWR: 3,840 lbs. Coachmen Viking 17BH.
GVWR: 3,700 lbs. Lance 1575.
GVWR: 3,800 lbs. Winnebago Minnie Drop 190BH.
GVWR: 3,500 lbs. Airstream Basecamp.
GVWR: 3,500 lbs. Airstream Bambi 16RB.
GVWR: 3,075 lbs. Forest River R-Pod 189.
(Source: rvshare.com)
Can you tow a travel trailer without sway bars?
Yes, you can. Should you? That's a different question. Very short trailers, such as the teardrop trailer, might be ok, but trailers over 20 feet will sway significantly at higher speeds and during curvy travel and can lead to accidents and even fatalities.
Can you double tow with a travel trailer?
Yes, it is possible to double tow, but it is not always advisable nor safe, since you are adding another point of angle/curvature bend, as well as added length of whatever you are towing. It takes expert skills to maneuver double- or triple-tow.
Can you tow a travel trailer with a truck camper?
"That all depends on what's being towed, and the tow equipment installed on the truck. As a rule of thumb, a typical truck and camper set-up needs at least 350 pounds of excess payload capacity (GVWR minus the wet and loaded weight of the rig) to be considered for towing." (Source: www.truckcampermagazine.com.)
What are the best truck tires for towing a travel trailer?
Goodyear Endurance is a top brand choice for travel trailers. Michelin have been coined "China-bombs" by the RV community due to their high incident rate of randomly blowing on the interstate and causing significant damage to the travel trailers.
Below is a list of top-rated travel trailer tires:
Nitto Terra Grappler G2 Traction Radial Tire: Best Tire For Towing Travel Trailer.
BFGoodrich All-Terrain T/A KO2 – Best Light Truck Tire For Towing.
Cooper Starfire Solarus HT – Best All-Season Touring Pickup Truck Tire.
(Source: www.rvingtrends.com)
What is the most reliable tow truck?
These are the top five:
2022 Ford F-150 Max Towing Capacity: 14,000 Pounds.
Chevrolet Silverado 1500 Max Towing Capacity: 13,300 Pounds.
GMC Sierra 1500 Max Towing Capacity: 13,200 Pounds.
Toyota Tundra Max Towing Capacity: 12,700 Pounds.
Ram 1500 Max Towing Capacity: 12,750 Pounds.
(Source: www.forbes.com)