If you're planning to lease a box truck, you'll be happy to hear that leasing costs less than renting it. But, how does leasing a box truck work, and why do people lease them?
Box trucks are usually leased for deliveries, transporting cargo, carrying equipment and tools, and other tasks. People prefer to lease a box truck for several reasons.
Below we presented the most common ones.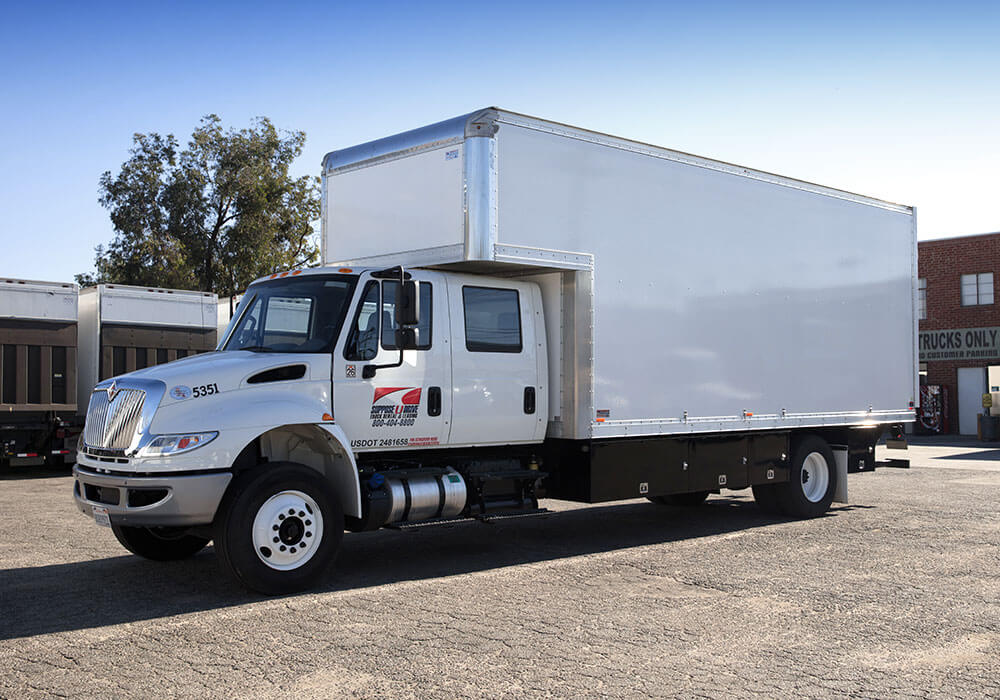 1. More Affordable
The first and most important reason for leasing is that it's affordable. While buying an actual truck might be very expensive, leasing doesn't include costs such as towing, taxes, or overhead.
Additionally, suppose you lease a commercial truck. You are more likely to gain better profits for your business because your monthly payments are lower, which means more profits.
2. Reduction in Repair and Maintenance Costs
Another reason is that leasing requires less maintenance and repair costs. If you get a full-service lease, the repair and maintenance expenses such as tires, oil changes, or routine inspections are covered.
3. No Depreciation Costs
You don't have to worry about depreciation costs when leasing a truck because its value doesn't affect you. But, if you were to buy a new truck, that would be a problem.
Also, leasing doesn't decrease your company's net worth, and it doesn't show on the balance sheet.
4. 24/7 Emergency Breakdown Assistance
It's comforting to know that you'll be okay if your leased truck breaks down because you bought a full-service lease. When your truck breaks down, you can get a hold of any experienced mechanic who has everything needed to handle your problem.
Overview of the Box Truck Leasing Application
Now that you know why people prefer to lease a truck instead of buying let's explain how the leasing application actually works.
The lease agreement can be month by month for years, depending on the lease. After the contract is over, you can decide whether you want to give back the truck or purchase it.
Lease applications may vary depending on the vehicle. For example, vehicles on fast leases can take anywhere from 7 to 21-days; stock cars take 3 to 4-weeks, while factory orders take 3 to 6-months.
Below is the step-by-step guide to follow when leasing a box truck.
1. Processing Your Order
The first step is to submit an inquiry online, which will take 24 to 48 hours to get a response. If you submit an request via email, it can take up to 5 days for a sales consultant to contact you.
Once they do, all the requirements, lead time of the vehicle, stock availability, and credit history are discussed to ensure that you are eligible to lease.
2. Processing Your Finance Application
Once you are settled, the sales consultant will ask you to fill in an online finance proposal. After reviewing the proposal and checking all the information, the truck leasing company will refer you to a finance provider.
The response can take from 48-hours to 5-working days.
3. Ordering Your Vehicle
After the processing fee, the leasing company will order your vehicle from the supplier. An email will come your way to confirm your vehicle order and information.
4. Processing Your Finance Documentation
Now comes the part that takes most of your time in this application process. After the leasing company receives a due date from the dealer, they request your finance documentation and send the paperwork to you to read and see if you're content with everything.
After you sign and send the paperwork, they will check the documents to see if everything is correct so they get passed on to the deliveries team.
5. Insurance
When it comes to box truck leasing, there are three types of insurance:
Non-trucking liability insurance;
Occupational accident insurance;
Physical damage insurance coverage.
What Do You Need To Lease A Box Truck?
Before going straight truck shopping, it's essential to look at factors and requirements that determine eligibility.
To apply for a box truck lease, you need a credit score of 600 or more to receive the best financing rates. Also, you need a CDL license (3+ years preferred) and have the money for a down payment. Some truck financing companies may have easier qualification requirements, but the interest rates will be high.
But, before you get down to the application process, make sure you have documents with information such as:
Name, date of birth, and marital status of directors;
Name of the company, address, annual turnover, and registration number;
Company bank account details.
Box Truck Lease Purchase Programs
Your credit score is one of the first things that companies check. The better your credit, the more likely you will get approved for the lease. What's more, the credit also affects what interest rates you'll pay. So, if your credit score is high enough, your monthly payments will be less and vice versa.
For these reasons, it's essential to research the significance of your credit score and what affects it, such as:
Payment history;
Credit utilization rate;
Type, age, and amount of credit accounts;
Total Debt Owed;
Hard inquiries.
Below we will discuss some of the best lease purchase programs.
Long-term box truck lease
If you need to lease a truck for months, years, or more extended periods, signing a long-term lease is the way to go.
This type of lease is more flexible for your business and comes with plenty of benefits. One of the major benefits is that you won't have to worry about the maintenance and repair costs of the truck.
A long-term leasing program will stay with you through it all, which means less work and more profit for your business.
Short-term box truck lease
As the name implies, a short-term truck lease is a lease that can last days up to months. Many companies offer custom-based programs depending on the customer's needs.
This type of lease has its benefits, the most major one being no depreciation costs.
Besides, this program will allow you to extend your lease if you plan to keep the truck for an extended period than you initially planned.
Lease-to-own box truck
A lease-to-own box truck program will allow you to purchase the truck at the end of your lease. This is ideal for those who want to use the truck for some time and then, after depreciation hits, buy the truck.
Though you will buy the truck in the end, you need to make a down payment beforehand.
Where Can You Find Good Box Truck Leasing Deals?
Ryder Lessor or Penske full-service leases are worth checking out if you want to find truck leasing deals at an affordable monthly rate. Amazon is another place where you can find cheap deals.
Or you can go to Rentalyard, a marketplace where you can find numerous box truck leasing companies, each offering a vast collection of trucks.
5 Largest Box Truck Leasing Companies
Penske is an industry leader in truck leasing, offering full-service leasing, contract maintenance, and on-site maintenance. Along with trucks, Penske rents other types of vehicles too.
For their leasing services, they offer a vast range of services, including comprehensive maintenance services, licensing and tax management, as well as 24/7 roadside assistance.
Enterprise Truck will provide you with the vehicle that satisfies your business needs with over 14 different truck sizes–from small pickup trucks to large box trucks.
At Enterprise Truck, you can rent your truck on a daily, weekly, or monthly basis. With a team ready to help you throughout the journey, Enterprise Truck will provide you with the vehicle that matches your business demands.
Ryder is a transportation and supply chain company with over 85 years of experience, serving over half of Fortune 500 companies. Among the services they offer are truck leasing and maintenance programs.
When working with Ryder, you can choose between a short, medium, and long-term option, ranging from 1 to 10 years. They also provide opportunities for maintenance offering your three different levels and location options.
Idealease is a truck lease and rental company with over 45,000 trucks, trailers, and tractors in its fleet.
Their truck rental program will offer your short-time leasing opportunities, ranging from a day to several months. At the same time, their full-service truck leasing provides your transportation solutions along with 24/7 roadside assistance, vehicle maintenance, and excellent customer service.
Wyatt Leasing is an equipment leasing and financing company serving the agriculture, transportation, construction, and waste industries. Their leasing services provide solutions for farm equipment, trucks and trailers, as well as heavy equipment.
Wyatt Leasing has a vast range of leasing types, including:
100% purchase option,
Terminal rental adjustment clause,
$1 buyout.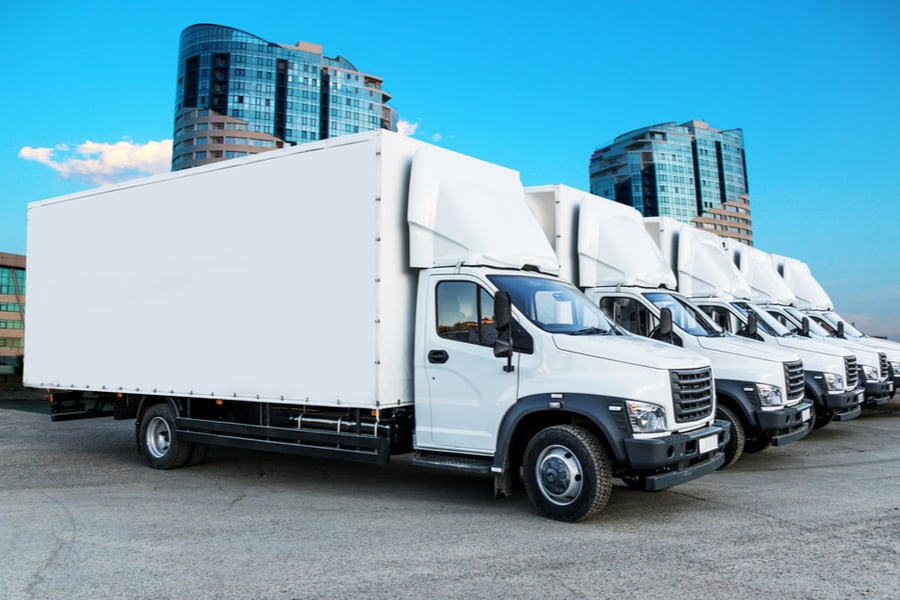 How Much Does Leasing A Box Truck Cost?
However, the monthly payments can be lower with lease programs, ranging between $800 and $2,500.
Leasing a box truck is affordable because the monthly rates are relatively low. A solid box truck lease costs between $800 and $1,000 per month; however, the price changes depending on the vehicle. Plus, you need a good credit score to get an affordable monthly rate.
Below you can find a comparison table of box truck leasing companies and their rates for truck leasing.
Truck Leasing Company
Type/Size of Box Truck
Rates
Location
Penske
Box Truck
$299.99 plus $1.29/mile per day
Route 10 Green Hills

Reading, PA 19603, USA

Enterprise Truck
26ft Box Truck
Approximately $228 per day
4750 Van Dam St

Long Island City, NY 11101

Ryder
26ft Box Truck
Approximately $1,150 per month
11690 Northwest 105th Street Miami, FL 33178
Idealease
Large Box Truck
Custom-made approach
430 North Rand Road, North Barrington, IL 60010
Wyatt Leasing
Box Trucks
Customized leasing plan
Cashmere, WA 98815, 104 Cottage Ave
Is It Better To Lease Or Buy A Box Truck?
Leasing a box truck is more affordable than buying one because you don't have to pay high-end upfront costs or deal with the truck's maintenance. You make daily/monthly payments, but you have no ownership claim to the box truck after the lease expires. Here's a list of pros and cons of leasing:
Pro: Lower Payments
Most people like leasing trucks since the payments are lower, so you get more financial flexibility without paying upfront costs. Leasing is cheaper since it's based on the portion of the asset and you get guaranteed maintenance.
Con: No Ownership Claim
The biggest downside to leasing a truck is that you can't do whatever you want to your box truck, so you can't personalize your truck. Also, your vehicle must stay in excellent condition at all times.
Pro: Reduces Indirect Costs
As part of the lease, many companies handle taxes, permitting, and licensing. They also minimize the risk of fines due to safety violations. Other indirect costs include maintenance and repair expenses such as oil changes, tires, and routine inspections, which a full-service lease will cover in their monthly rate.
Con: You Have to Pay a Price
Like any agreement, leasing agreements can penalize you if you tear or wear the truck, go over the mileage, or return the truck in bad conditions. Broken equipment can be highly costly unless you pay for insurance or a full-service program.
If you were to return their truck in such conditions, you could be penalized and be asked to fix it at your expense. No company lets you off the hook for the damages; they will get back at you on your new lease agreement.
FAQs
How big is the truck leasing market in the U.S.?
According to ibisworld.com, the market size of the Truck Leasing Market will be $32.6bn in 2022, with an estimated increase of 5.2%.
Are there box truck lease programs with no credit check?
Usually, most lease programs do a credit check because it's vital. A credit score of at least 600 is ideal for the best box truck rates. The lower the score, the more you will pay on fees and deposits. In some cases, a super low credit score might dismiss your truck leasing application.
Can you lease your box truck to a company?
Yes, you can lease your box truck to a company, though this process is more complicated. You can also receive monthly payments, but you need to do your research to get the best deal.
Which companies lease a box truck with a lift gate?
Although most companies don't lease a box truck with a lift gate, some companies such as Enterprise Truck Rentals and Ryder are exceptions. Most lift gates are controlled with a switch box with "up" or "down" buttons. They install a piece of electric or hydraulic equipment on the back of the truck and enable the load to be lifted several feet off the ground to be lowered from or placed on the truck's tailgate.
Is it profitable to rent a box truck for a month?
Yes, renting your box truck for a month can be highly profitable since you could make around $3,000 for a single truck. If you rent out your box truck full time, you can make approximately $15,000 and $25,000 per year.
Do you need good credit to lease a box truck?
Absolutely! A good credit score means you are more likely to find a box truck at an affordable monthly rate. Also, you will pay more on fees and deposits! However, if your business has a poor credit score, it doesn't mean that you can't lease a truck; it's just more challenging to find good deals.