Sprinter vans are ideal vehicles to rent because they come in different sizes. You can choose a van to fit the number of passengers you're transporting or pick dimensions based on goods you need to deliver.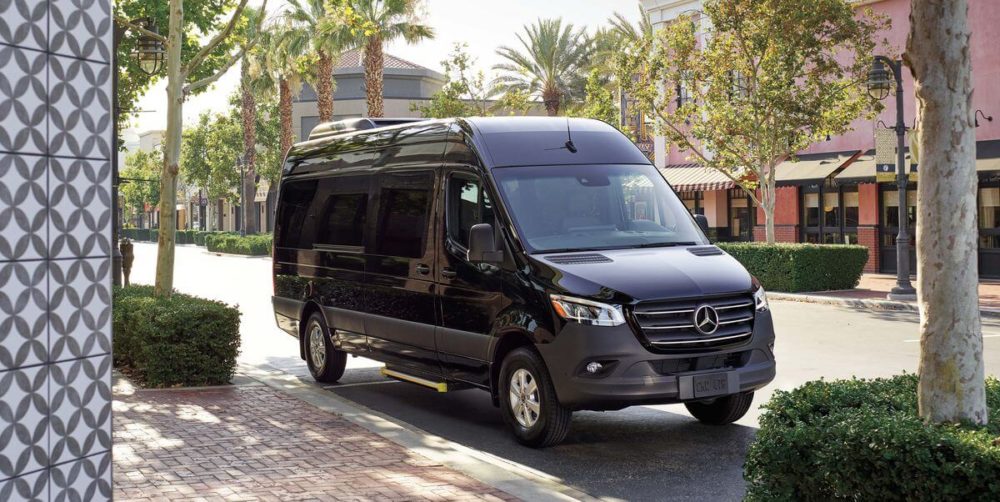 What Are Sprinter Vans?
A Sprinter van is a cargo vehicle with great gas mileage, capable of highway drives or light off-roading. Sprinter vans vary in size and are comfortable options for transporting large groups. They're also used to carry cargo due to their dimensions.
There are three options of wheelbases, which impact the overall length of the Sprinter van. You can choose sizes such as:
144-inch wheelbase for a 19.46-foot van
170-inch wheelbase for a 22.56-foot van
170-inch extended wheelbase for a 24.16-foot van
The standard roof height of a Sprinter van is 96.3 inches or just over eight feet. The height makes the van great for passengers because they can stand up to stretch easily. You can also find Sprinter vans with high roofs of 107.5 inches.
There are several models of Sprinter vans to choose from, including:
Cargo van
Worker cargo van
Crew van
Passenger van
The cargo van offers 586.1 cubic feet of space with three built-in seats. The worker cargo van is similar, with three built-in seats and 486.5 cubic feet of cargo space. You can load over 3,500 pounds of goods in either cargo van without seeing problems with driving performance. They can both tow up to 5,000 pounds.
The crew van has 367.5 cubic feet of cargo room and five built-in seats. The roof is high enough so you can stand in the back and sort equipment. Instead of the walls sloping into the roof, they're vertical all the way up to maximize the interior space.
The passenger van has seats for 12 passengers and large windows to make the drive more pleasant. There are also amenities like a Bluetooth connection to play music remotely. Additional features like Blind Spot Assist and Map Pilot ensure you get where you're going safely.
Many people have modified Sprinter vans for various uses, so you can often find special types to rent. If you're looking for a luxury van, camper van, or party van, you'll have no trouble finding something nice.
How Many People Can Fit In Sprinter Vans?
Due to the different sizes of Sprinter vans, the number of passengers can vary. As outlined above, the cargo vans have limited seating. When you rent a passenger van, you'll usually find options with 12 or 15 seats, including the driver.
Those options are the most common and most popular, but you can find other styles to suit your needs. Many rental companies have vans that seat eight or nine passengers. The Sprinter van is still the same size as other models, so you'll have extra room for luggage or cargo.
Why Rent a Sprinter Van?
There are many reasons to rent a Sprinter van. They're spacious vans with several options in terms of interior area. You can choose to seat more passengers or rent a van with fewer seats and more cargo space. The interior is also spacious in regard to the ceilings, with a standard height of 96.3 inches.
Since Sprinter vans are cargo vans, you know you'll have plenty of room for luggage, backpacks, coolers, and other equipment. You can load up everyone and their pool floaties for a day at the beach. Your employees can bring their own presentation equipment for a meeting.
If you're traveling with a large group, it's easier to rent one vehicle for everyone. You can ask employees to drive their own cars to an off-site meeting, but they'll file expense reports for the gas and mileage, and they won't all arrive at the same time. If you're traveling with family members, you don't want to have to carpool and follow each other to the destination.
Renting one large vehicle for everyone keeps the fun going. You're able to talk and laugh with each other, making the trip an exciting part of the journey. Businesses renting Sprinter vans for employees will appreciate how it gives them extra time to go over notes before presentations.
You can rent a Sprinter van for any use. You can transport employees to a meeting. You can take a trip with your family members. You can use it as a shuttle bus during busy events. If you have important clients coming to town, you can send a Sprinter van to pick them all up at the airport and streamline their trip.
Sprinter vans are the perfect size for a party bus. Whether you take a group of kids on a birthday scavenger hunt or celebrate someone's impending nuptials, there's plenty of room for fun in a Sprinter van.
It's even the ideal vehicle for transporting cargo alone, with no passengers. There's so much space in the van that you can use it for shipping and deliveries.
When you rent a Sprinter van, you're bypassing so much of the hassle of travel. You're able to have everyone together in one vehicle with all their luggage. You don't need to check bags or worry if your carry-on fits. You don't have to go through security or make sure everyone's seats are together. It streamlines the travel process and makes everything easier.
Because there are so many different models of Sprinter vans, you're sure to find one for your exact needs. You can find a van with charging ports and Bluetooth controls. Some vans have a DVD player and TVs built in over the seats to entertain the passengers. These vans are easy to customize, so there are plenty of options available for rent.
Though Sprinter vans are spacious, they're not as bulky as an RV or semi-truck. You can drive the van yourself without needing experience.
Sprinter vans handle like the cars and trucks you're used to controlling. They make tight turns and run smoothly over any type of road. They also get great gas mileage—typically 19 miles per gallon in the city and 25 miles per gallon on the highways.
How Much Does It Cost to Rent a Sprinter Van?
The cost to rent a Sprinter van can vary widely depending on factors such as the type of van, duration of the rental, and location. There are peak seasons for van rentals, especially if you're looking for camper vans, so you need to consider that as well.
Some rental companies only charge for the length of the trip, while others calculate the cost by the mileage driven. You can shop around to see what option would work best for you, depending on your travel itinerary.
You can also find Sprinter vans to rent from agencies that bring the vehicle to you. There's an extra charge for this convenience, but it can be worth the money. You could also book a Sprinter van with a driver and not need to worry about navigating the city in the van.
Typical Sprinter van rentals can range from $75 to $150 per night in smaller cities. In larger cities like Washington, DC, or Los Angeles, you're more likely to pay $300 to $1,000 a day for a Sprinter van. The costs vary depending on the amenities you're looking for, as well as the model year of the van.
The price goes up to an average of $400 a day if you're renting a Sprinter camper van. While the rental fee might seem hefty, it's worth it since you can sleep in the van and save on lodging. You can also save money by renting the van for a week instead of a few nights.
If you're flexible with your travel dates, you could save even more money. Traveling during the off-peak season will give you affordable options. If you're willing to sacrifice some amenities and drive an older model, you'll save even more on your trip.
Renting a Sprinter van with a driver makes the trip easier on you. You don't have to worry about navigating roads you might be unfamiliar with. However, you'll pay more because you have to pay for the driver's time and expertise.
A Sprinter van rental in Miami costs less than $100 an hour, but there's often a minimum of two or three hours per booking. With a driver, a Miami Sprinter van rental is $115 per hour, depending on the company you book. Make sure the business hires professional drivers before you pay for this service.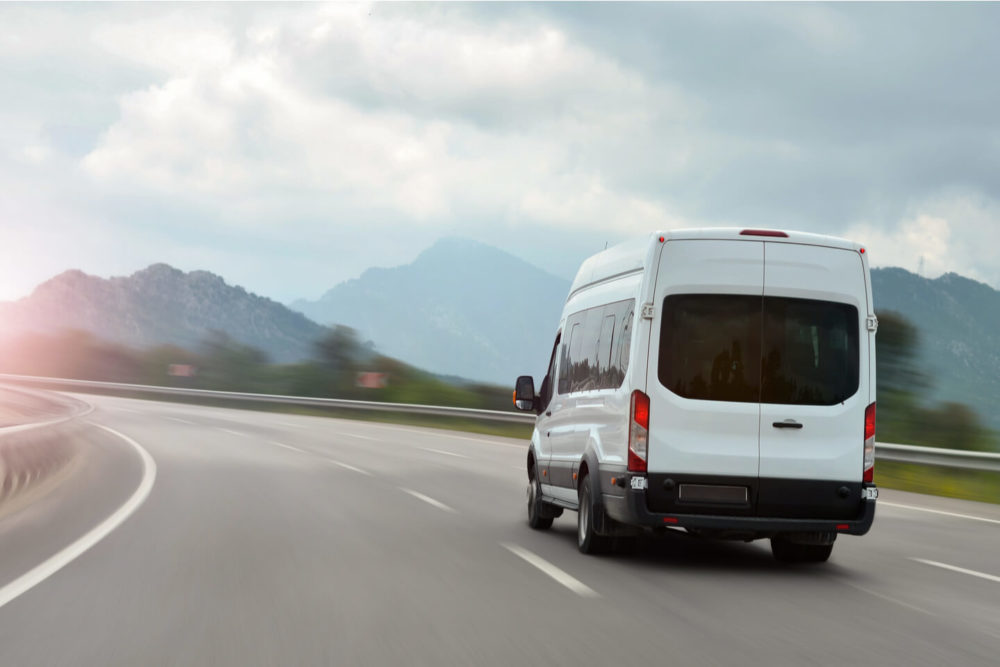 Where to Rent Sprinter Vans?
Sprinter vans are so convenient that they're growing in popularity. You can find them on specialized travel sites like Outdoorsy, Turo, and RVShare. These sites are peer-to-peer rental outlets, so you're renting the vehicle directly from the owner.
Because you're shopping in an open marketplace, you're more likely to find a van rental close to your home. You don't have to worry about corporate rental agreements because you'll work directly with the owner to reserve the right van for your trip. You can find great deals because people don't want their RVs and Sprinter vans to sit unused.
You don't have to use the peer-to-peer marketplace, though. Traditional rental companies offer Sprinter vans as well. Enterprise and Hertz rent passenger vans for your travel needs. Ryder and Penske rent cargo vans for moves, cargo transportation, or delivery.
You can also shop around for the best rental rate by using sites like Kayak, Priceline, and Hotwire. If you're flexible with the dates of your trip, you can find a great deal on the perfect van.
How to Rent a Sprinter Van
You need to qualify to rent a car in order to rent a Sprinter van. Some companies ask that drivers are 25 years old, while others require 20 or 21. Some states allow 18-year-olds to rent cars. You need to check the company's guidelines before proceeding to rent a Sprinter van.
All rental drivers need a valid driver's license and insurance. Most rental companies require a credit card on file to charge in case of an accident or extra fees.
Outdoorsy is an easy site to use for a Sprinter van rental. Enter your location—either where you'll start the trip or where you'd like the van delivered. You can then filter the results page depending on vehicle type, price, location, and amenities.
Once you find the right van, you message the owner to talk about the vehicle and rental terms. If everything suits your trip, you can book directly with the owner and prepare to travel.
If you're renting through traditional companies, you'll follow their standard guidelines to book the van. You can search by vehicle to find available dates, or choose your dates and then check for vehicle types.
Rentals either allow you to keep the van for a certain time period with no constraints or give you a specific mileage limit. You'll also want to ask the company or owner about policies regarding smoking, pets, and other issues you might encounter on the road.
Which Sprinter Vans Are the Best?
Sprinter vans are top-notch no matter what, but choosing the best one for your travel can make all the difference in the world.
Cargo vans have one row of seating for passengers, but the back of the van is completely open. You can store cargo, deliveries, or luggage in this space. If you're traveling with just a few people and a lot of gear, the cargo van is your best bet. They come in different trim models, so you can choose your amenities and travel in comfort.
The crew van has a second row of seats so you can carry more passengers. There's still plenty of space in the back of the van for everyone's luggage, coolers, and equipment.
The passenger van is the one people most often rent for travel and transportation. You can fit up to 15 people in the largest Sprinter van, so it's easy to take your group around town or to your vacation destination.
Sprinter camper vans are fun ways to get out on the road and spend time in nature without needing a hotel. You can travel to your destination in the van's passenger seats and sleep in the back. Since all Sprinter vans are large enough to accommodate four sleeping areas, you and your family can enjoy a unique way to travel.
If we're talking about specific models, the Ford Transit is great for traveling in cities and with not so many seats. The Mercedes Sprinter cargo van is much more suited for traveling large distances.
FAQs
You've learned a lot about Sprinter vans and how to rent them. In case you need some more information before you book one, check out the answers to these frequently asked questions.
What is the average price of a Sprinter van?
A standard Sprinter van starts at about $35,000 to buy. A van already converted into a camper could run as high as $200,000. Therefore, renting a Sprinter van is always a great choice. You can pay by the night, with an average cost of $200, or book by the week for longer trips, paying about $1,500 a week.
Passenger van rentals book by the hour, by the day, or according to your destination. If you're taking a group on a trip across state lines, you can reserve the van for a longer period. However, if you need to take employees from the office to the convention center, you can book a van for a few hours. The flexibility of the rental periods makes booking a Sprinter van affordable.
Can a Sprinter van sleep 4?
Yes, a Sprinter van has room for four people to sleep in the cargo area. Larger Sprinter vans can fit a queen bed along with two benches that transform into sleep space. Depending on the layout of the van you're interested in, you can also find some with pop-tops that lift up to provide more room. An open floor plan gives extra space for sleeping.
Are Mercedes Sprinter vans any good?
Yes, Mercedes Sprinter vans are good, reliable vehicles for passengers, cargo, or camping. You can comfortably fit 12 to 15 passengers, depending on the model you rent. The roof is tall enough that people can stand and stretch without feeling cooped up.
Cargo Sprinter vans have hundreds of cubic feet of space. They're also strong enough to tow up to 5,000 pounds without compromising gas mileage or energy efficiency. People convert these durable vans into camping vans to sleep in overnight, so you know there's plenty of space to get comfortable.
Are there bathrooms in Sprinter vans?
There are bathrooms in some converted camper vans. They're safe to use as long as you dispose of the wastewater legally. It's hard to find Sprinter passenger vans with bathrooms, but it's possible to convert the back into a compact bathroom. You might have to refine your search to rent a passenger van with a bathroom, but it would make the trip more comfortable.
Are Sprinter vans good for road trips?
Yes, Sprinter vans are great for road trips because they're so spacious. They have plenty of room for passengers, luggage, and other cargo. People can stand up and stretch without hitting the ceiling. Though it's a large vehicle, Sprinter vans are easier to drive than a long RV. They handle like standard cars and trucks, so there's no learning curve for the driver.
Is it good to rent a Sprinter van for a day?
Yes, it's good to rent a Sprinter van for a day if you only need transportation for that time. You can take a group of people from the meeting point, like a hotel or office, and drop them off at the event. A day rental will give you time to hit several locations without needing to coordinate taxis or carpools.