The van life movement is still growing every day, with more and more people choosing to give up the security of four walls and a roof for the freedom of living in a tiny home on wheels. Sprinter vans are one of the best-known camper vans, and they're immensely popular. But can they handle a family of five?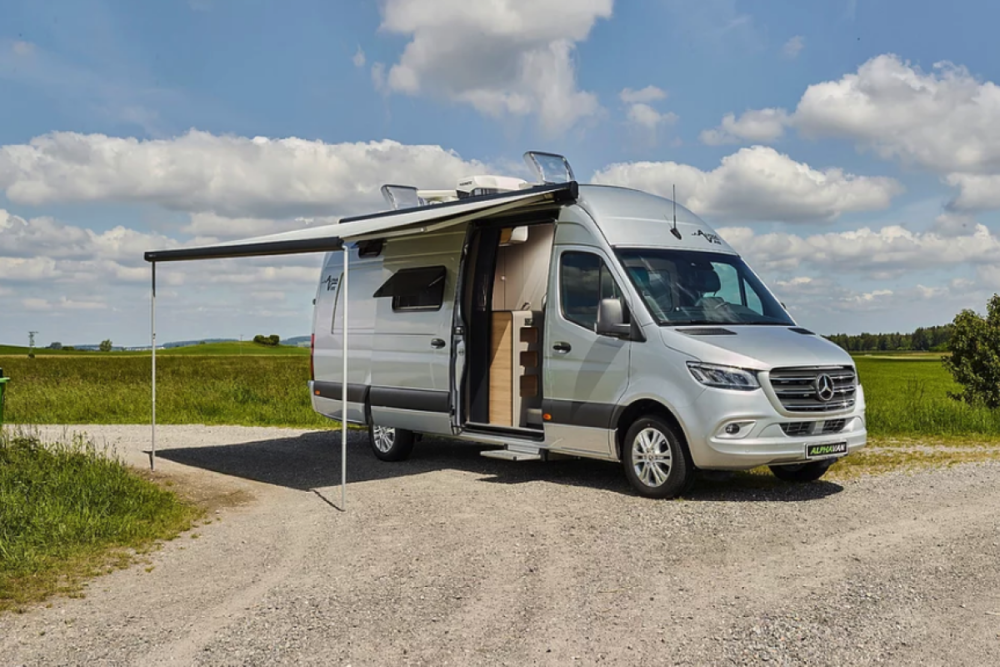 Is the Sprinter Van a Good Family Car?
A basic Sprinter van designed for passenger transport can hold as many as 17 occupants at one time. Sprinter vans have a wide range of seating options, including captain's chairs, bench seats, couches, etc.
Of course, adding beds, a bathroom, storage, and other live-in features will reduce the total number of possible passengers you can carry. But most Sprinter van seats can be rotated and removed, so they can double as lounge seating when parked or come out altogether when you need a little extra space.
Sprinter vans come in a wide range of lengths, which means the square footage will vary depending on which model you choose. The shortest has 34.4 square feet of space, while the longest has 90.5.
Square footage isn't the best way to measure a Sprinter van, though, because there's lots of vertical space to use as well. For a family of five, we recommend the Sprinter 177, which has nearly 500 cubic feet of interior space, compared to less than 375 cubic feet in the Sprinter 144.
The exact weight capacity of Sprinter vans varies depending on the model. You can expect a Sprinter van to hold between 2,900 and 4,300 pounds. Most Sprinter models can tow around 5,000 pounds, but some can tow up to 7,500. Even if you can't fit your whole life inside the van, you can still bring it in a tow-behind trailer.
You'll also get a lot of miles out of a Sprinter van. A new Sprinter van can easily exceed 300,000 miles with routine maintenance and proper care. Some Sprinter owners have even managed to keep them running well into the 400,000-mile range.
They're ideal for long road trips with big families straight from the factory. But a Sprinter van shines when converted to a camper. They're easier to drive than a full-sized RV but roomy enough for a family to live in.
Can You Sleep a Family of Five in a Sprinter Van?
Most sources will tell you that a Sprinter van can only sleep up to four people, but we disagree. Transporting a family of five means you'll have to get creative with seating and sleeping arrangements, but it's far from impossible.
For couples who share a bed, you can get double beds 64 inches wide and up to 75 inches long. There are also hanging solo beds for kids (60 inches by 20 inches) and adults (74 inches by 27 inches). Two solo sleepers can sleep in hanging beds above or below the double bed, taking advantage of vertical space and folding away when not in use.
If the fifth member of your family is an infant, you can maximize space with a pop-up bassinet. Older kids can sleep on a fold-flat bench seat or in a special bunk designed to fit securely in the driving cab. Some clever families have even made the cab into another temporary bunk bed, meaning there's room for a sixth person if you're feeling chummy.
Things to Consider for Your Family Sprinter Van
Every Sprinter van conversion is different. Mercedes doesn't make campers, so all live-in Sprinter vans have been converted by a special van conversion business or family. That means you get to make your Sprinter van exactly the way you like it. Here are some things to consider.
Family Size and Ages
Depending on the age range of your children, your needs will differ. Infants take up less sleeping space than older kids and adults, but they also have more gear. Likewise, older kids may need to stay connected for school, so convenience features like built-in wi-fi are essential.
Remember that as your family changes, the layout of your van may need to change, too. If you're designing the conversion yourself, consider building in flexibility, so you don't have to start from scratch a few years from now.
Storage Space
Living in a Sprinter van is like living in the tiniest tiny home. Storage space is naturally limited, which can be problematic when living with kids. Fortunately, the driver's cab can be used for extra storage when parked.
Many Sprinter vans include storage above the cab, but there are plenty of other creative storage options available. The area under the bench seats is perfect for books and toys, and you can even DIY cabinetry for kitchen tools and other items.
Indoor/Outdoor Activities
Living out of a Sprinter van requires a substantial mindset shift. Instead of cozying up inside the majority of the time, your living room is now the outdoors.
Plan to spend as much of your time as possible engaged in outdoor activities so the kids can burn off some energy and stretch their legs. Sometimes the weather won't cooperate, so you'll have to plan for some days inside, but an awning can get you outdoors even when there's a light drizzle or a bit of wind.
Board games are one of the best ways to spend a bad weather day (or two). They take up a bit of storage space, but it's worth it, especially when you have five humans stuck inside a 90-square-feet-or-less space.
Amenities
When building or buying, keep in mind that gas burners can be dangerous with little ones afoot, so induction cooktops are a great choice. Some models have showers with curtains that zip to keep water inside the stall, which is convenient for families with small children.
You can purchase portable refrigerators and toilets separately. Just remember to account for them when planning your storage space. Portable toilets can slide into cabinets or under beds, but refrigerators take several cubic feet.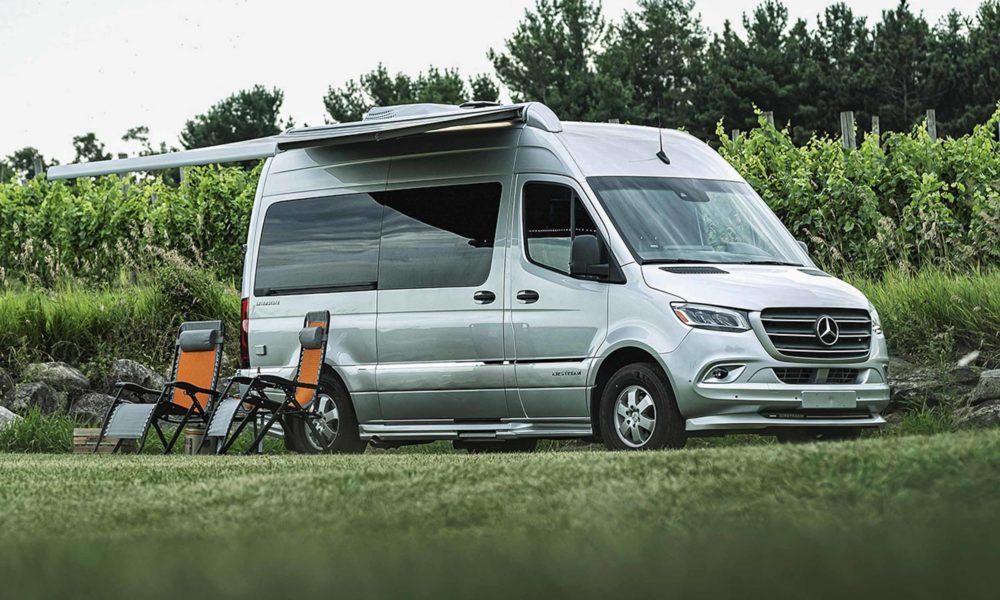 Are Mercedes Sprinter Vans Safe?
Mercedes Sprinter Vans are among the safest vehicles on the market. They include lots of safety features, such as a 360-degree camera and active braking, following distance, lane-keeping, attention, and blind-spot assist, to keep your family safe when you're on the move. – Explain their safety features, especially for kids
Installing a car seat in a Sprinter van is the same as in an ordinary passenger vehicle, and you can fit three side-by-side on a single Sprinter crew van bench seat. Sprinter vans come equipped with tethers and anchors compatible with the LATCH system, so you can count on your child's seat to stay secure.
You'll love the automatic running boards that descend when entering and exiting the van when you're parked. It seems like a small thing, but it saves you from dealing with skinned knees and bruises from kids tripping on their way in and out.
How Much Does a Family Sprinter Van Cost?
A new Mercedes Sprinter van, without any additional upgrades, starts at around $36,000. You'll have to convert it yourself or contract with a conversion company to turn the basic passenger van into a tiny home.
Depending on the amenities you're looking for and how much work you're willing to do yourself, converting a Sprinter van can cost as little as $500 and as much as $30,000. You can purchase fully converted vans from RV retailers for as much as $400,000.
If you're looking to save money, buying used is the way to go. You can buy a used Sprinter that's already fully converted on sites like RVTrader, Van Craft, and The Van Camper. Adventurous families can even buy a used passenger van and do the conversion themselves for dirt cheap.
Are Sprinter Vans Expensive to Maintain?
Compared to similar passenger vans, Sprinter vans are actually less expensive to maintain. In its first ten years on the road, a Sprinter van will need roughly $18,000 of maintenance, including at least one major repair.
How to Rent a Sprinter Van
If you're not certain that you're ready to commit to the full purchase of a Sprinter van, plenty of agencies will rent you a Sprinter van or other adventure van to see how it fits your lifestyle.
Outdoorsy and RVShare are two nationwide peer-to-peer rental services that connect owners of Sprinter vans and other RVs with people interested in renting them for a short time. It's sort of like Airbnb for Sprinter vans.
Choose where you want to start, where you want to end up, and how long you plan to keep the van, and the search engine will connect you with your Sprinter van "host." Finding a Sprinter for rent that can sleep up to five people is tricky but not impossible.
Pros and Cons of Sprinter Vans
Sprinter vans have a lot to offer families who want more freedom and adventure in their lives, but there are some disadvantages. Here are the pros and cons of buying, driving, and living in a Sprinter van.
Pros
Tons of interior space for nearly limitless conversion possibility
No special permit or licensure is required to drive other than an ordinary driver's license
When you're not camping, you can carry up to 16 passengers
Cons
As with anything with the Mercedes name, Sprinter vans are expensive
Must be converted for camping use, either DIY or through a third-party vendor
FAQs
Here are a few more questions we often get about life in a Sprinter van.
What is the biggest size Sprinter van?
The largest Sprinter van is the Sprinter 2500, which is a Sprinter 170 with a high roof and over 530 cubic feet of interior space.
What Sprinter van model year is best for family use?
According to one survey, Sprinter owners rate the 2006 Sprinter van as the best model year for families. At that time, Sprinter was sold in the United States under the Dodge brand, not Mercedes, so if you want to snag one of these model years, look for Dodge Sprinter.
However, you'll want to look at newer model years for the most advanced safety features. The best year, among later model Sprinter vans, is 2021, thanks to its numerous safety and convenience features that make family life in a Sprinter van more convenient.
How many people can live in a Sprinter van?
Most conversion companies and Sprinter rental businesses will tell you that a Sprinter van can sleep up to four people. However, with a little bit of creative thinking and use of space, up to six people can live in a Sprinter van full-time.
Is sleeping outside an option with Sprinter vans?
Absolutely! Of course, you can always open the windows. But with a retractable awning, you can sleep out in the open air, even if there's a chance of light rain.