Traveling is often more convenient in a rental vehicle. It saves wear and tear on your personal vehicle. It also limits your liability in case something goes wrong. If a tire goes flat, the rental company handles it. If the vehicle breaks down, they will replace it.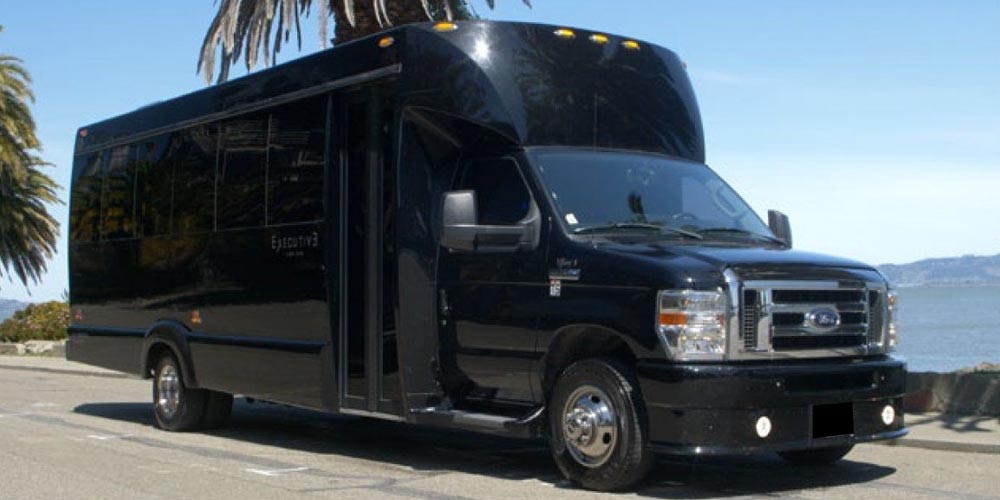 Sometimes a large group of family, friends, or co-workers want to travel all together. Finding a rental vehicle large enough may be a challenge. So what do you do if you want to rent a 20-passenger van?
Is There a 20-Passenger Van?
Some situations when you might want to rent a van that holds 20 people include:
Weddings
Company events
Sports events
Church group events
Celebrations of all types
You might be wondering if a van that holds 20 passengers exists. While there is not, technically, a van that fits that description, there are mini buses that are similar to a van. Mini Buses can hold 20, 21, 24, or 36 people.
A 15-passenger van is a common size for passenger vans. 12-passenger vans are similarly common. 20-passenger vans are rarer and are usually referred to as a "minibus" instead of a van. Though there are fewer of these vehicles, they are still available as rentals for many purposes.
Types of 20-Seater Vehicles
Some of the options available to rent that offer seating for up to 20 people include:
Gogo Charters – 20 Passenger Minibus
This luxury vehicle has climate control around the soft seats that recline. Look up and you will see luggage racks. A PA system allows the driver or group leader to make announcements to the group.
National Charter Bus – 20 Passenger Minibus
The features included in this minibus are:
Wifi
A place for luggage
Outlets for the passengers to use
Extra legroom
Television and radio
Heat and air conditioning
Cushioned seats
United Coachways – Party Bus
The limo party bus has 20 seats lining the sides of the bus and mood lighting, interior bars, and wifi. It offers HD televisions, stereo surround sound, and a DVD/CD player in its leather interior. For comfort and style, this party bus is a great option.
Nationwide Limousine Service – 20 Passenger Party Van
Nationwide's party van has u-shaped seating and a lot of amenities. It has a television and CD player with a premium sound system. The large windows are tinted. It has a wet bar. Privacy doors separate the party from the chauffeur. If you want to party on the way to your destination, this bus will make that possible.
How Much Does It Cost to Rent a 20-Passenger Van?
The average price to rent a 20-passenger van or minibus ranges from $800 to $1,400 daily. Shorter rental times are available in many areas. A four-hour rental starts at around $495. Some rental companies offer discounts for multi-day rentals.
Vehicles that seat more than 16 people require a commercial driver's license (CDL). Minibus rentals nearly always include a professional driver.
If you have a driver, you may be able to save some on the rental cost, but most companies prefer to provide the driver. Some companies will not allow renters to provide their own driver. Though tipping is not required, you should tip the driver at least 15% of the rental price of the bus.
Some of the companies that offer minibus rentals include:
Many cities and states have a Charter Bus Company based there. Some of these are Florida Charter Bus Company, Las Vegas Charter Bus Company, NYC Charter Bus Company, and so on. Check the yellow pages or Google for a charter bus company in your area.
Most car rental companies do not provide 20-passenger vehicles because of the driver requirements. If you want to rent a minibus, you will need to visit a bus charter company. Car rental companies will rent you a van that will seat 12 or 15 passengers.
A few local companies will rent a self-drive bus, but you or your driver must have the proper license. Self-driving limits what your party may consume within the vehicle. If you want to drive the bus, you will need to discuss it with the rental company ahead of time.
20-Passenger Van Rental Rates in the U.S.
20-passenger van rental rates vary, depending on certain factors. Factors that affect cost include:
Travel distance
Rental duration
Season
Location
Pickup and drop-off points
A sample of rental rates for 20-passenger mini buses in the U.S. include:
| | | | |
| --- | --- | --- | --- |
| Company | Hourly Rate | Daily Rate | Per Mile Rate |
| Ally Charter Bus | $153 – $162 | $1,170 – $1,215 | $4.32 – $4.86 |
| Atlanta Charter Bus Company | $110 – $135 | $1,080 – $1,300 | $3.50 – $4.75 |
| Florida Charter Bus Company | $117 – $155 | $1,220 – $1,455 | $4.25 – $5.15 |
| GOGO Charters | $125 – $160 | $1,200 – $1,500 | $4 – $5 |
| Los Angeles Charter Bus Company | $120 – $165 | $1,250 – $1,500 | $4.25 – $5.50 |
| Shofur | $90 – $170 | $750 – $1,700 | $3 – $5.50 |
| Texas Charter Bus Company | $122 – $160 | $1,225 – $1,460 | $4.35 – $5.25 |
Each region has region-specific prices, so contact a local company for a quote to get an exact price for your rental.
If you intend to rent for more than one day, be aware that you must provide lodging for the driver. This will add about $150 per night to the cost of the rental. You are not required to provide the driver's food.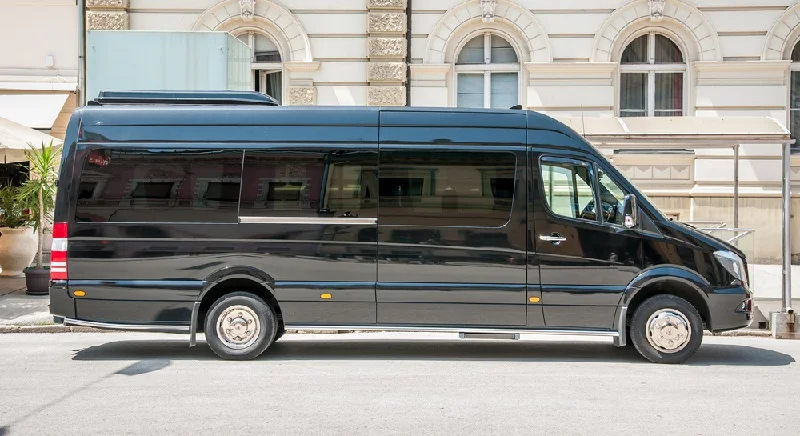 How to Rent a 20-Passenger Van?
Since it is rare to find a 20-passenger van at a standard car rental location, you will need to find a charter bus company.
All states and many large cities have charter bus companies. Some offer quotes for a rental online while you must call others to get pricing. To find a rental company in your area, you can type "20-passenger van rental near me" into a search engine such as Google.
To get an accurate quote, you will need to provide the following information to the rental company:
When you will pick up the 20-passenger minibus
Where you will pick up the vehicle
What amenities do you want in the minibus
Whether you will return the van to the pickup location or a different one
How far do you intend to travel
When you will return the vehicle
The rental company will provide you with the base price. They may include whether or not unlimited miles are included in the rental. If they do not offer that information, you may want to ask. They will also give you the price of any fees, such as insurance, driver, taxes, etc. You will need to calculate the tip for the driver yourself, in most cases.
Benefits of Renting a 20-Passenger Van
Sure, you could carpool and get the same people to the same place, but there are benefits to renting a 20-passenger van instead.
Save money on gas prices. With the total at the pump increasing regularly, filling one gas tank instead of two or more is a huge plus.
Travel together. When a group is traveling, it is usually more fun to be in the same vehicle. It is easier to talk with each other, and the group is less likely to get separated during travel.
Have enough space for everyone. Minibusses offer legroom and comfort for a great travel experience. The cushioned seats are a bonus.
Limit the wear on personal vehicles. Renting a minibus allows the passengers to leave their cars home.
FAQs
Here are the most common questions regarding 20 passenger vans.
How long can you rent a 20-passenger van?
In most areas, you can rent a 20-passenger van for as long as you want. Some companies may offer a discount for longer rental periods. It does not appear that there is a time limit at most rental companies. You are only limited by your budget.
How much does it cost to rent a van from Hertz?
Prices to rent a van from Hertz vary by location. You can call your local Hertz dealer for a quote or use their website reservation form. They do not offer a 20-passenger van for rental, but you can rent a 15-passenger van at some locations. Hertz has the best rate guarantee. They guarantee that the vehicle you rent from them will cost less than renting it from their competitors.
What is the average minibus rental rate?
In the United States, the average minibus rental rate for a 20-passenger vehicle is between $470 and $675 for a four-hour rental. The average rate is between $750 and $1,350 for a full day. The average cost for additional hours is between $80 and $140.
How many passengers can a Sprinter hold?
A Mercedes-Benz Sprinter is a 15-passenger van. Mercedes-Benz also makes two other Sprinter vans. One is a cargo van that holds fewer passengers (only five) but more cargo. The other is a camper van that includes a full bathroom, a kitchen, and a bed.