Boho camper vans have made a big splash on the budget RV market in America. Camper vans under $50k are common in many European countries, but this market is smaller in the states. Until now, that is! Boho Camper Vans are leading the charge for budget road trip vans.
What is a Boho Camper Van?
Boho Camper Vans are specially designed RVs made for people who don't have much experience with recreational vehicles, so if you only want the experience of a road trip without any stress or extra expense, then Boho Camper vans are an excellent choice for your trip.
Boho Camper Vans started life as a small startup business. After having the idea to develop affordable camper vans following a road trip, the owners went onto the popular TV show Shark Tank to build the business. Following their success, Boho camper vans have really hit the road.
These vans are available in different sizes and styles and are budget-friendly. They are perfect for a two-week break, a surfing trip, or an extended stay on the road.
How Much do Boho Camper Vans Cost?
A Boho Camper Van is a budget camper van, according to the company owners. There are different styles of Boho vans that come at different prices. If you want to buy the van and the conversion, expect to pay between $65-70k, which is a lot less than a Winnebago ($175k).
That said, it's possible to buy a Boho Camper Van for $35k, fully equipped for the road. The price of the van depends on the van type and the conversion requirements; there is also an option to buy a used Boho camper van for less or try your luck at some popular online auction websites.
How Much is a Boho Camper Van Rental?
Instead of buying a Boho Camper Van, you could choose to rent one. A typical rental period for camper vans is three nights which works out at four days. Of course, you can also rent camper vans for months and years if you need one for your lifestyle or an extended period on the road.
Leasing a Boho Camper Van works out cheaper than buying one, even for a year or two; so if you only need a Boho Camper for a one-off trip or a special occasion, go to the Boho camper van website and select your requirements on the online form – you will then receive a quote.
Average daily rental cost
A typical daily rental cost for Boho camper vans depends on the type of van – a low roof van will cost around $190 per day, and high roof camper vans will cost around $244 per day.
Renting Boho camper vans daily is one of the most popular ways to experience van life. Whether it's a couple's getaway, a special road trip, or an annual staycation, Boho camper vans provide a fast and affordable service to enjoy van life without any stress or expense.
Average monthly rental cost
When it comes to leasing camper vans from Boho, there is a 3 night minimum period, but beyond that, there is no limit to how long you can rent a van. The price depends on the length of time and the type of van; on average, you can expect to pay around $150 per day.
If you're out of town for a few weeks or you need temporary accommodation while your home is being renovated, why not rent from Boho Camper Vans and make your time out of the house comfortable and adventurous. Again, go to the website to get an accurate quote for your trip.
Average annual rental cost
If you intend to live on the road for an extended period, such as a year or more, you have two options – you can buy a van or rent one. If you know it's a one-off trip, and you want to rent one for a year, contact Boho for a quote. Cheaper prices are available for extended rental periods.
Longer road trips that take you cross-country or over borders might require longer rental periods. Although it seems like a long stretch from a camper van rental, it's quite common. Think of conventional car leases that last for years. Contact Boho camper vans for a quote.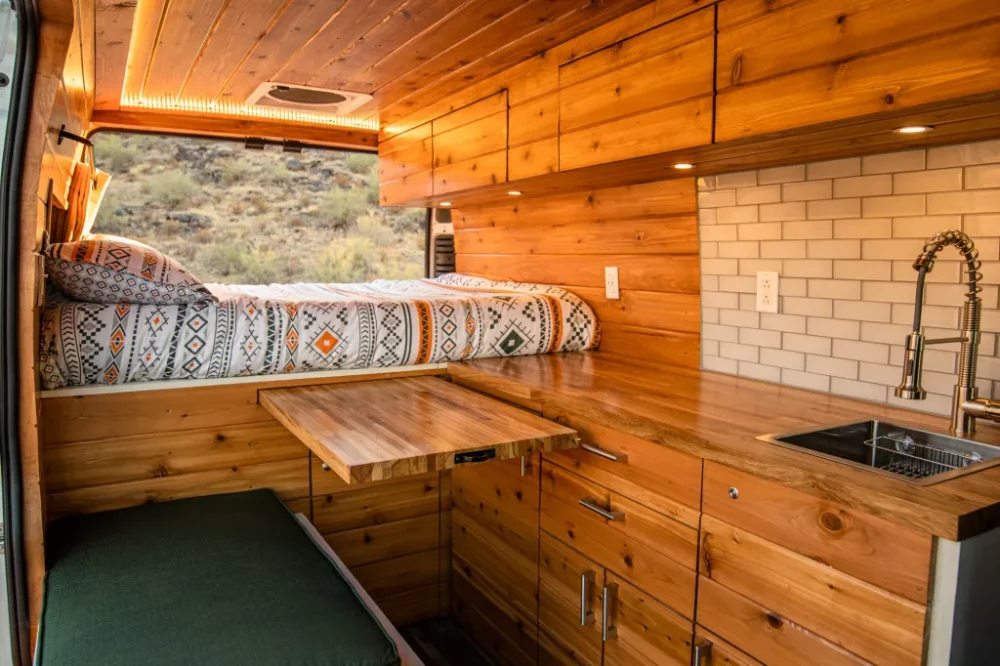 Are Boho Vans Affordable Camper Vans?
Brands converting vehicles for vacations include Airstream, Mercedes, Winnebago, and others; but these conversions can become expensive fast making the hefty price tags of a conventional RV look more appealing. On the flip side, you have Boho vans offering an affordable alternative.
A typical Winnebago in the same class as a Boho van will cost $179k on average, which is much more than Boho Camper Vans which cost $70k to buy, fully converted and ready for van life. Buying second-hand is also an option for RVs and Boho vans, but again the costs are relative.
Where To Buy/Rent Boho Camper Vans
The best place to buy or rent Boho Camper Vans is from the website. On the Boho Camper Vans website, you will find a convenient system for choosing your camper van package and obtaining a quote. The camper van can include an outdoor shower, LED lights, and AC outlets.
However, the official website is not the only place where you can get an amazing deal on Boho Camper Vans. Many of the vans are available on auction sites; they have 'used vans' that can be bought for less. The website can direct you to various auction sites that have vans available.
How to Build Your Own Boho Camper Van
Building your own Boho camper is a great idea; it means you can get creative with the process and understand the van's systems so that problems on the road are easy to solve – you have the expertise. That said, you need to be prepared to learn about systems and processes.
Start with a reliable guide on how to build a van and buy a van to work on. If you want to build a boho van, you will need to style it the right way from the start. Boho vans typically have a lot of wood on the walls, floors, and ceiling; they also have lots of plants and cushions inside.
Clean out the van and prepare the shell, you have to build the van from the inside out, so don't expect it to look like the finished article for some time. You will need flooring, insulation, and walls – preferably wood. You also need lights and power, but after that, it's time to decorate.
Guide to Buying a Used Boho Camper Van
Used camper vans built by the Boho team make an excellent investment. Instead of paying the full price for a high-quality van complete with vinyl flooring, cooking supplies, and a full-size bed, you can buy exactly the same product at auction or directly from the site with Boho offers.
The majority of used boho camper vans are ex-rental vans; although they are not new, they still offer excellent value and mileage. Go to the Boho camper website and visit the used vans section, select the vans for sale button and start exploring the used vans inventory for deals.
Boho Camper Vans Net Worth 2022
On Shark Tank, the owners of Boho Camper Vans valued the company at 3 million dollars and offered a 10% equity share in the business. Many of the Sharks saw this as an overvaluation, except for Barbara Corcoran. Since the show, the firm has achieved 2 million dollars in revenue.