Mercedes Sprinter vans are popular because of their versatility. They are customizable work vans that are easy to drive and fit into most parking spaces.
But, they also have enough space for companies looking to move products or for individuals hoping to customize their van and turn it into a camper capable of traversing uneven roads.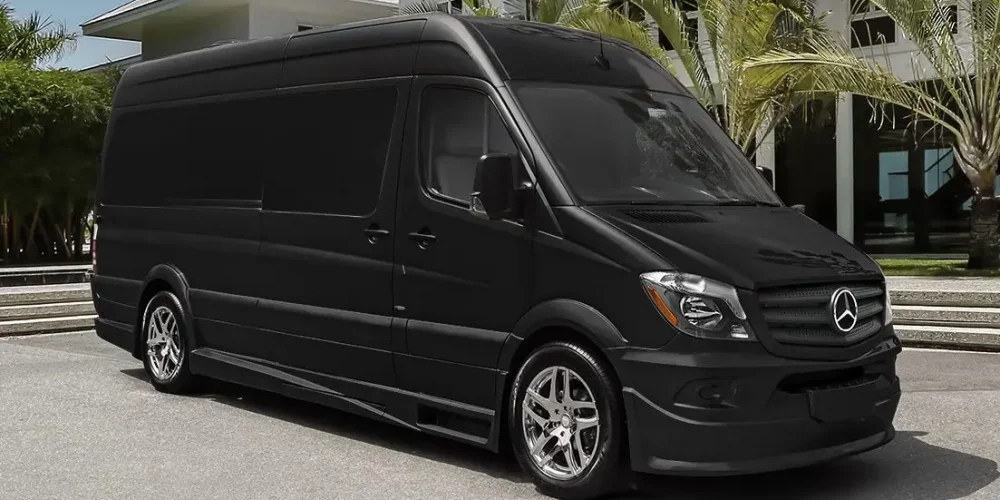 Sprinter vans are large, sleek-looking vehicles that come in white, black, gray, and more. Their adaptive features are available in a variety of configurations and styles.
The newest Sprinter vans come with innovative safety features, an active brake assist that can warn the driver of upcoming dangers and brake for you, a blindspot assisted mirror, a 360° parking camera, etc. Recently, sprinter vans with gasoline engines are available, as are vans with four-wheel-drive, smartphone integration, and the ability to carry up to 15 passengers.
The starting price for Sprinter vans ranges from $36,500-$57,000 before customizable options. Converted Sprinters can reach as much as $200,000.
These vans are considered some of the most expensive on the market, but many customers believe their price is worth the versatile array of options and customizable features.
Are Sprinter Vans Reliable?
Sprinter vans are reliable because of their long-lasting engines and high quality, durable chassis.
Unlike other vans on the market, Sprinter vans can perform over rough and rugged terrain. The four-wheel-drive Sprinter van option is perfect for those looking for a reliable, customizable van that you can trust to perform in less than ideal road conditions.
Most well-cared-for Sprinter vans can provide users with more than 300,000 miles of driving.
Of many different models of sprinter vans out there, often cited is the 2006 Mercedes sprinter as the most reliable and well-loved by users. Users praise this specific model of Sprinter van for its large carrying capacity, fuel economy, and dependability over many thousands of miles of service.
While Sprinters are generally considered very reliable vans, there are pitfalls to be aware of. Some of the problems commonly associated with Sprinter vans include issues with the torque converter, which may result in a rumbling sound often compared to the sound a car makes when it strays into the rumble strip on the side of the road.
This common problem can result in up to $1,350 in repairs with parts and labor.
Another common issue some Sprinter van owners face is colloquially known as "the black death." This issue occurs if the copper ring seal in the middle of the injector fails, resulting in an accumulation of black tar on the fuel injectors.
Depending on how bad the problem has gotten, a mechanic may need to destroy the injector and cylinder head before replacing both. It could cost close to $3,000 to complete these repairs or as little as $200.
Other issues Sprinter vans sometimes face include exhaust flex pipe leakage, which forces the engine to shut down, a DEF heater failure if the emission fluid tank runs out, turbo resonator air leaks, etc.
Simple issues, like rust, can be prevented by storing the van indoors, out of the sun and rain, and cleaning off road salt during the winter.
Are Mercedes Sprinter Vans Expensive To Repair?
Mercedes Sprinter vans are dependable cars, but they can be expensive to maintain. Most Sprinter owners will find that the van costs around $18,000 in repairs within the first ten years of ownership, which may seem like a lot, but in comparison to other vans of a similar size, it's slightly less.
Below are a few maintenance issues that a Sprinter van owner might run into and an estimate of how much they would cost to fix:
New battery: between $291 and $306
Oil change: between $232 and $258
Transmission fluid change: between $245 and $283
Engine air filter: between $20-$45
Cabin air filter: between $15-$35
Tire rotation: between $44-$56
Brake pad replacement: between $150-$300 per axle
Timing belt: between $409-$919
New tires: between $150-$500 per tire
It's also important to consider the availability of parts when considering the price of Sprinter van repairs. Critical parts are readily available in most locations, but every element of the Sprinter van, besides the battery, is shipped internationally.
So if the part you need isn't in stock, it might take a while to get it.
How Long Do Sprinter Vans Last?
Sprinter vans are well-made vehicles that can last for years. If the van is well cared for and you complete repairs quickly, a Sprinter van can last more than 300,000 miles. Some vans have even surpassed 450,000 miles. But, around 150,000 repairs will be needed, upping the maintenance cost considerably.
Gas mileage is also an important feature to consider. Like most large cargo vans, the Sprinter does not get ideal gas mileage. A Mercedes Sprinter van's gas mileage is around 14.5 mpg.
How Does Sprinter Van Warranty Work?
Mercedes Sprinter van warranties come with Mercedes-Benz warranty coverage, including a diesel engine limited warranty which protects the engine for five years or 100,000 miles.
Also included is a limited outer-body warranty that lasts for the same period. It covers finish paint, corrosion on metal panels, and perforations. Mercedes covers the first three years of van ownership under this part of the warranty no matter many miles the car has.
The last part of the Mercedes Sprinter van warranty is the Basic Limited Warranty. This part of the warranty applies for the first three years or 36,000 miles. It does not include maintenance and wear.
How To Make Your Sprinter Van Last Longer
There are many different ways to make your Sprinter van last longer and avoid some of the costly repairs these can have.
The most important way to make your Sprinter van last is to take care of issues quickly. As with any vehicle, untended mechanical issues often worsen over time and can even lead to a cascade of problems that will cost more money in the long run.
Other ways to make your van last longer are to drive on well-maintained roads, only use the van for longer trips, and avoid filling the vehicle with more weight than necessary. The latter can result in pressure on the engine, especially if the weight remains consistent for an extended period.
Rust is a common problem for sprinter van owners. One of the easiest ways to prevent rust build-up is to keep the van inside, in a garage, or under a protective covering whenever possible. If you leave the van out in the rain and sun, it is far more likely to develop issues with rust.
Additionally, winterized roads covered in salt can be a significant rust-causing problem. If you're driving in these conditions, it's important to clean the salt off your car as quickly as possible. You should take the van to a car wash or clean it off yourself with a hose or hand to avoid the worst effects of salt.
You may need to service your Sprinter if you notice any of the following indicators:
Numerous rust spots on the metal panels and undercarriage
Unusual noises from the engine
A rumbling sound similar to that which occurs if you drive over the rumble strip on the road
Loose or less-controlled steering
The appearance of any warning lights on the dashboard
A sticky feeling when trying to change gears (if the car is manual)
Regular oil changes are another effective way to make your Sprinter van last longer. If you neglect this simple fix, the engine can become damaged, costing far more than a regular oil change. Most Sprinters need to have their oil changed every 10,000 to 20,000 miles.
Regularly checking and changing the van's fluids is also essential, including the coolant and washing fluid.
Are Sprinter Vans Worth The Money?
Mercedes Sprinter vans are expensive and sometimes challenging to maintain. It can be tricky to find the necessary parts for repairs, and you may be faced with long waiting periods if the part or parts aren't in stock.
But, the vans do have many features that make them worth the money. Their features include:
A high carrying capacity.
The ability to convert them for specific businesses and needs (such as into camping vans).
The many different features you can select upfront.
If you can afford the upfront price of the van and the possibly expensive repairs that come with owning one, the Mercedes Sprinter van is likely the right choice for you.
Buying a second-hand Sprinter van is another option to consider. Second-hand vans generally range from around $26,000 to $130,000. A second-hand vehicle might allow you to get all the customizable options you're looking for without the "new" price tag.
But, there are always downsides to getting a used vehicle. It's important to consider the mileage, accident reports, and service history. You may find yourself immediately dealing with more repairs than you expected.
Customers reviewing their 2019 Mercedes Sprinter van purchase had both negative and positive things to say. One owner wrote the following on Edmunds:
"Seems reliable and safe for the miles I put on in 4 different states for my business.
Note: seems much different than all the Mercedes sedans that I have owned. I shouldn't compare. Attention to details in chassis panel gaps, wavyness of panels just doesn't seem "perfect." Yes, plenty of power, but that decreases mpg. It's there when needed. 18-26 mph on v6 diesel. High profile is challenging on windy days, but it has a safety slow down feature that prevents tipping. Overall, 10 months in, I'm satisfied. Would recommend."
Another owner on the other side of the spectrum wrote that the van is "Miserable to drive." They added that "Driving this thing on the highway can be scary sometimes because it tries to correct your steering while changing lanes" and that the "technology is over the top."
This same reviewer added that starting the van is another issue, as is its inconsistent acceleration rate.
FAQs
Here is a list of the most commonly asked questions regarding these sprinter vans.
Who makes the Sprinter engine?
Mercedes Benz makes the Sprinter engine. The 2023 version of the van will have the 4-cylinder turbo diesel engine that Mercedes uses in passenger cars.
168 and 208 horsepower versions will be available as well as all-wheel drive. Mercedes also offers 6-cylinder cylinder turbocharged gas engines.
Which is better — Ford Transit or Mercedes Sprinter?
The Mercedes Sprinter van is better if you're concerned with headroom, cubic feet, starting MSRP, and customization. But, generally, the Ford Transit is thousands of dollars less expensive, has a smoother drive, cheaper repair costs, and easier-to-find parts.
Do Sprinter vans have a lot of problems?
Most Mercedes Sprinter vans will have some problems over their lifespan, especially after they pass 150,000 miles. Some can be pretty expensive, but users find that the vans are not especially problematic with regular maintenance.
What are the worst years for Sprinter vans?
The worst years for Mercedes Sprinter vans are the 2015 and 2016 model years. Both years are affected by recalls, uncomfortable seats, soft-feeling brakes, unexplained engine malfunctions, and fuel system issues.
The 2015 model also has issues with leaky roofs, poor GPS quality, problems with paint flaking, and more.